Don Vittorio DiMaggio
Wikisimpsons - The Simpsons Wiki
Don Vittorio DiMaggio is the Godfather of the Springfield Mafia.
History
[
edit
]
He is the godfather of the Springfield Mafia. He is one step ahead of Fat Tony, and once tried to kill Homer and Krusty.[2] In "Homie the Clown", his only major appearance, when Krusty opened his own clown college he got into a conflict with the Springfield Mafia. However in the mean time Homer graduated Krusty's Clown College (formerly Willie Nelson's home) and got respect just for looking like Krusty. Apparently, it went too far when The Springfield Mafia thought Homer was actually Krusty and afterwards the Real Krusty came and the mafia decided to kill both of them unless they do a mini tricycle trick. Homer and Krusty worked together to do it and succeeded and avoided death, as well as getting their due from Krusty.[2]
He took part in the world's tallest human pyramid record attempt.[3] During Trappuccino, he was part of the angry mob that was after Homer for dumping in Lake Springfield and dooming the town.[4]
Non-canon
[
edit
]
| | |
| --- | --- |
| | The contents of this article or section are considered to be non-canon and therefore may not have actually happened or existed. |
The Simpsons: Tapped Out
[
edit
]
This section is transcluded from The Simpsons: Tapped Out characters/Wise Guys. To edit it, please edit the transcluded page.

Permanent Tasks
| Task | Time | Reward | Requires | Quest with the task | Animated? |
| --- | --- | --- | --- | --- | --- |
| Go Skating | 10m | 26, 7 | Simpsons' Skating Rink | | |
| Enjoy a Diet Manhattan | 60m | 105, 26 | Businessman's Social Club | | |
| Relax with his Cat | 4h | 260, 70 | Bench | | |
| Overpay for Sex on the Beach | 4h | 260, 70 | Smooches on the Beach | | |
| Stay at the Swelldorado | 4h | 260, 70 | Swelldorado | | |
| Try to Win at Blackjack | 4h | 260, 70 | $ Casino | | |
| Drink and Babysit | 4h | 260, 70 | The Boiled Potato | | |
| Attend Parenting Seminars | 4h | 260, 70 | Universal Panacea | | |
| Shoot a Spider | 8h | 420, 105 | Luigi's | | |
| Dance the Señor Burns | 8h | 420, 105 | Chez Guevara | | |
| Talk with his Hands | 12h | 600, 150 | | The Family Business Pt. 1 | |
| Relax at Rancho Relaxo | 24h | 1,000, 225 | Rancho Relaxo | | |
Behind the Laughter
[
edit
]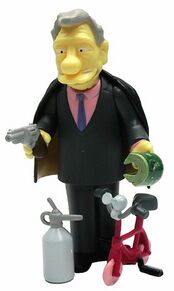 Appearances
[
edit
]
References
[
edit
]