Freddy Quimby
Wikisimpsons - The Simpsons Wiki
<!–-INFOLINKS_ON-–>
Frederick "Freddy" Joey Quimby is the nephew of Springfield's Mayor Quimby.
History
[
edit
]
Freddy was charged with beating a French waiter half to death. The court ruled in favour of Freddy because Bart Simpson testified with an eyewitness account.[1] Freddy was later seen when Homer barges ahead of him in line in order to file papers to run for office, but then realizes Freddy is among those in line who have to register as sex offenders.[2] He changed his appearance and improved his look, with a different voice (apparently, he started becoming somewhat of a law-abiding citizen, as he is his press secretary, and as evidenced in the town hall meeting that started the recall elections, he seemed willing to even call out his uncle for the crimes that he and his administration caused).[3]
Non-canon
[
edit
]
| | |
| --- | --- |
| | The contents of this article or section are considered to be non-canon and therefore may not have actually happened or existed. |
Freddy also once owned a Fish Stick Factory before Mayor Quimby fired his own nephew and took over production himself.
The Simpsons: Tapped Out
[
edit
]
This section is transcluded from The Simpsons: Tapped Out characters/Civil Servants. To edit it, please edit the transcluded page.

Permanent Tasks
| Task | Time | Reward | Requires | Quest with the task | Visible? |
| --- | --- | --- | --- | --- | --- |
| Get a Slap on the Wrist | 60m | 70, 17 | Court House | | |
| Say "Chow-dah!" | 4h | 175, 45 | Gilded Truffle | | |
| Drink Irresponsibly | 8h | 275, 70 | | The Cost of Living Pt. 2 | |
| Create a Salacious Headline | 12h | 420, 100 | Quimby Compound | | |
| Enjoy a Privileged Life | 24h | 600, 150 | Quimby Compound | The Cost of Living Pt. 7 | |
Behind the Laughter
[
edit
]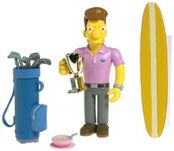 Appearances
[
edit
]
References
[
edit
]
| | |
| --- | --- |
| | Wikisimpsons has a collection of images related to Freddy Quimby. |
<!–-INFOLINKS_OFF-–>