Ricky Gervais
Wikisimpsons - The Simpsons Wiki
This article is about the character. For the guest star, see Ricky Gervais.
Ricky Gervais
Character Information
Ricky Gervais is an English comedian, actor, director and writer.
History
[
edit
]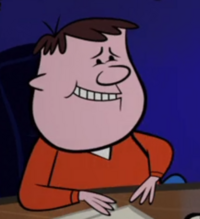 At the Golden Globes, he tips a barman $10 although the barman doesn't see and insists the note was there all along. When the barman turns his back, Gervais takes the note back again and runs off.
He later is talking to who he thinks is Sir Ridley Scott but is actually just a seat filler. he gets all emotional in order to get a part in his next film. After he reveals that he is a seat filler, Gervais gets annoyed.[1]
Ricky Gervais was seen in a promo for The Ricky Gervais Show on HBOWTIME.[2]
Behind the Laughter
[
edit
]
Ricky Gervais' appearance in "The Ten-Per-Cent Solution" has him in the style of animation of The Ricky Gervais Show.
Appearances
[
edit
]
References
[
edit
]