Mrs. Vanderbilt
Wikisimpsons - The Simpsons Wiki
Mrs. Vanderbilt
Character Information
Mrs. Vanderbilt (first name unknown; also referred to as "Socialite", "Society matron" or "Posh lady") is a wealthy socialite. She and her husband live in Springfield.
Description
[
edit
]
Mrs. Vanderbilt's distinguishing trait is that she is easily shocked, and also prone to fainting when she encounters something that shocks or surprises her.[1]
Mrs. Vanderbilt's wealth and social status are strongly indicated by the facts that she is always seen wearing expensive clothing and speaks with a stereotypical upper-class accent. In spite of the relatively rigid social conventions in which she operates, Mrs. Vanderbilt shows a bit of common touch as she takes part in "regular people" activities such as going to sporting events and to the zoo. She also defies social convention by seeking out the men's room's facilities when she finds a long line in the ladies' room.[1]
More in keeping with her social status, Mrs. Vanderbilt is a debate aficionado and supports Springfield Elementary School's debate team.[2]
History
[
edit
]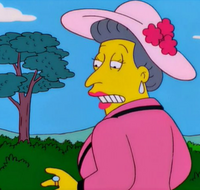 Mrs. Vanderbilt attended a horse race with her husband. When they saw Furious D walking around, they were shocked at his look. Mrs. Vanderbilt called Furious D a "disgraceful beast". Bart then told the two of them to "get bent", causing Mrs. Vanderbilt to faint.[3]
Mrs. Vanderbilt had the misfortune of walking into two of the "prank monkey" practical jokes played by Mr. Burns and Homer. She fainted dead away both times:
Burns had Homer wear a giant diaper in a men's room at Springfield Stadium, then lie on the floor and act like a baby needing to be changed: "I made a boom-boom!" This drew cries of disgust from the other men in the restroom. Mrs. Vanderbilt burst into the room and said, "The line in the ladies' room was far too long, and so I hope you don't mind if I -" She then cut herself off and gasped at the sight of Homer in the diaper. Homer continued with his act: "Baby made a boom-boom!" Mrs. Vanderbilt exclaimed, "Oh, good heavens!" and fainted on the spot.
At Springfield Zoo, Homer and Burns pranked the Panda-Monium! exhibit. Homer, wearing a panda costume, posed as Sim-Sim, the zoo's new female panda. He ended up being shocked by electrical prods, assaulted by Ping-Ping (the zoo's male panda), and sprayed by skunks. Afterwards, Lisa consoled him as he sat on a bench wearing nothing but a towel and his underwear. Taking Lisa's advice, Homer decided to quit working as a prank monkey and rebuild his self-esteem. Determined to get started, Homer took off his towel and stood up, but as he did so, his underwear caught on the bench and tore away, leaving Homer standing there naked. Just then, Mrs. Vanderbilt came along and got a full view of Homer. This time, she said, "Good Lord, what a week!" as she fainted.[1]
Mrs. Vanderbilt attended a potential investors show at the Springfield Nuclear Power Plant with her husband.[4]
Mrs. Vanderbilt attended a debate meet at Springfield Elementary. She watched a debate where Lisa had dyed her hair brown prior to the match because she had been battling hair-color stereotypes associated with her blond hair. With brown hair, Lisa presented a deliberately weak argument which received enthusiastic approval from the judges, and then confronted them for judging the debate based on her hair color. When Lisa announced that she was really a blond, Mrs. Vanderbilt fainted.[2]
When Bart used a window washing platform on a tall building to moon some of the building's occupants, one of the groups that saw him was a Society Matrons Lunch and among the attendees was Mrs. Vanderbilt. She did not faint, however, but exclaimed "Why, we never!" in unison with the rest of the group.[5]
Non-canon
[
edit
]
| | |
| --- | --- |
| | The contents of this article or section are considered to be non-canon and therefore may not have actually happened or existed. |
When Homer became Mr. Burns' bad news giver, he was asked to tell Mrs. Vanderbilt that her wedding to Burns was off. Unfortunately Homer told her this news at Springfield Gorge, she fainted from the shock and landed on Captain Lance Murdock's motorcycle, the two quickly fell in love, however according to Homer the extra weight on the bike caused them to crash.[6]
Behind the Laughter
[
edit
]
The alternative designations ("Posh lady", "Socialite", "Society matron") for Mrs. Vanderbilt derive from the various ways her lines have been cited in online sources such as the quotes summaries at The Simpsons Archive. However, the context and behavior make it clear that all these designations refer to the same character.
The pink Chanel suit that Mrs. Vanderbilt is seen wearing in "Homer vs. Dignity" is the same style as the one that Marge buys (and later alters several times) in "Scenes from the Class Struggle in Springfield".
Appearances
[
edit
]
References
[
edit
]