The Bloodening
Wikisimpsons - The Simpsons Wiki
The Bloodening
Movie Information

The Bloodening is a British black-and-white horror movie that was shown at the Springfield Drive-In.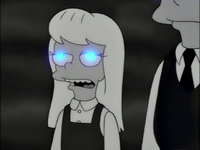 The movie features four mysterious blonde-haired children with English accents and strange powers, including mind control, telepathy and telekinesis. When their powers activate, their eyes glow with a piercing blue color.
When the children first confront the townspeople, they reveal secrets such as the minister has been pilfering from the poor box, and the doctor and the bootblack are jointly having an affair with the fishwife. The townspeople then brandish weapons such as knives and pitchforks and start to attack the children. One of the boys says, "We can't have that," and the children's eyes begin to glow, causing the townspeople to start attacking each other with their own weapons.
Reaction
[
edit
]
The kids of Springfield, after a town-wide curfew was enacted, snuck into the Drive-In to see this movie, which inspired them to get revenge on their parents by broadcasting their secrets over the radio.
Behind the Laughter
[
edit
]
Appearances
[
edit
]