Mike Wegman
Wikisimpsons - The Simpsons Wiki
"This guy I'm menting is so cool. He listens with his mouth open. He's been blocked by so many celebrities on Twitter. And he thinks I'm the most valuable worker at the entire nuclear plant."
―Homer Simpson talking about Mike Wegman
Mike Wegman
Character Information
Mike Wegman is a former intern at the Power Plant and current owner of Mike's Slices food truck.
History
[
edit
]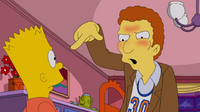 Before he started working at the Power Plant, Mike and his friend Nesto cleaned gutters for cash, until Nesto fell off the roof and landed on a doghouse. After this, Mike decided to become an intern at the Power Plant to get closer to his hero, Homer Simpson. He went to the Power Plant and told him he was part Native American, which landed him the job. Then three years passed.
When Homer confronted Mr. Burns after he didn't chip in money for Lenny's birthday, Waylon Smithers accused Homer of taking advantage of Burns, as he was taking medication that had a side effect of making Burns a decent person. Smithers then demoted Homer to looking after the interns at the Power Plant. On his first day of the job, the interns all mocked Homer and Mike Wegman stepped in, yelled at the interns and told Homer that he was his number one fan. Mike told Homer that whenever there was trouble at the Power Plant, Homer was at the heart of it, so he thought of Homer as a hero. Mike then asked Homer to be his mentor.
Homer was happy to take on this responsibility, as Mike actually looked up to him. Homer went out of his way to make a good impression on Mike, getting a new tie and using Marge's perfume. Homer also started to gush about Mike to his family, mentioning that Mike had been blocked by many celebrities on Twitter. At work the next day, Mike brought Homer his coffee, which was no coffee, just donut holes. Homer then showed Mike around Sector 7G, which excited Mike. Seeing how much Mike idolized Homer, Homer decided to invite him to dinner that night.
At dinner, Mike brought his wife, Maureen, with him, who was heavily pregnant with their daughter, who Mike said they were going to name Patrick Ewing Wegman, after basketball player Patrick Ewing. During dinner, Mike revealed that he was a waiter at Maureen's wedding when they met, and she left her fiancé to be with Mike. Shortly after this, Bart started insulting Homer, which caused Mike to explode at Bart, yelling at him and insulting him. This caused Bart to cry and Marge kicked Mike and Maureen out of the house, with Maureen apologizing to Homer.
At work the next day, Mike revealed to Homer that his dream was to run a food truck that specialized in single slices of pizza, with each slice being cooked fresh. This was because full pizzas were left under heat lamps, leaving the slices dried out. Homer decided to help Mike realize his dream and they went to Mr. Burns to try and get an investment. After Mike showed off his idea to Burns, Burns told them that it was the stupidest idea he had ever heard and called Homer a nincompoop. Mike then went off on a rant at Burns, which led to Burns shooting him in the face with a 200 year old blunderbuss, firing him.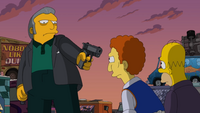 After this failure, Mike and Homer had a heart to heart, with Homer revealing that he caused all the accidents at the Power Plant. Mike told Homer that no-one disrespects Homer Simpsons, not even him. Mike then went to the Springfield Mafia and got out a $100,000 week-long loan to pay for the food truck, which was named Mike's Slices. Upon arriving at the Simpsons house in it, the Mafia turned up and demanded that Mike start paying up his loan. Mike told them that he had bet it on a college basketball game, which his team ended up losing. The Mafia were getting ready to kill Mike and Homer when they escaped in the food truck.
Mike and Homer decided to hide out in the Auto Yard, which was full of failed food trucks. Mike said that this was because none of them had an original idea, except his. The Mafia then tracked them down and was getting ready to kill Mike when Fat Tony smelled Mike's pizza. Homer brought the Mafia slices and they enjoyed it. Homer tried to convince them to let Mike go as he had a good food truck, and he could get money for the Mafia that way. Fat Tony said that the food truck business was a gamble, which gave them the idea of allowing people to place bets in the food truck too. Mike's Slices then went to business, selling pizza, allowing bets and also selling weed.
Mike Wegman later opened the Mike Wegman Center for The Study of Patriot League Basketball Spreads at Lehigh University, took his wife and daughter to a book signing by Patrick Ewing, appeared on Shark Tank to get funding for Mike's Slices and he watched Homer get sawed in half by Abra Ka-Debra.[1]
Later, Mike Wegman attended a night cruise in Springfield[2] and he was seen in the audience for Tabitha Shingle's live recording of her podcast Interminable.[3]
Mike was part of the trivia team A Triv Called Questions at Moe's Tavern. He was also seen running his food truck Mike's Slices at the Springfield Forever Cemetery.[4]
Mike Wegman was part of the Cutlife pyramid scheme that Homer was involved in.[5]
At some point, Mike pushed his own food truck off a bridge, for what he says was a good reason. After this, Mike started to sell counterfeit products, including the new Slipreme Caliphates 2 shoes. When Bart wanted the shoes, Homer ended up getting the counterfeit shoes from Mike. However, they quickly fell apart. Mike later went by the Simpson house trying to sell counterfeit Wagyu-style steaks, which were actually made of donkey meat. He saw Homer wearing a Slipreme hoodie and took a photo and uploaded it to Instasnap. This led to Homer getting the loser men in Springfield to start wearing Slipreme clothing. Mike later appeared at the Bartman One launch party where he was selling counterfeit versions of the shoes, which Homer bought for Bart.[6]
Personality
[
edit
]
Mike idolizes Homer Simpson and that doesn't change even when Homer reveals that he caused all the accidents at the Power Plant. Mike is also a big fan of college basketball and follows a lot of the games, often shouting at the games when they don't go the way he wants. Basketball is such a huge part of his life that he makes basketball references a lot. Mike also has anger issues, especially when it comes to Homer. If someone insults Homer, Mike will go red in the face and explode, shouting and insulting the person in return. He does this to people even when he shouldn't, as he shouted at Mr. Burns, who was both his and Homer's boss at the time. He also shouted at Bart, causing Bart to cry, showing that he doesn't mind shouting at kids either.
Mike also has a habit of calling Homer by "Homer Simpsons", mispronouncing his last name. However, Homer never corrected him and eventually began calling Mike "Mike Wegmans" and even referring to himself as "Homer Simpsons".
Appearances
[
edit
]
References
[
edit
]