Everybody Hates Ned Flanders
Wikisimpsons - The Simpsons Wiki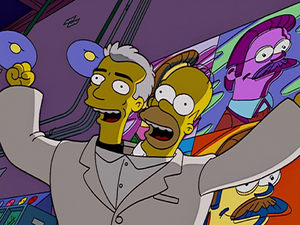 Everybody Hates Ned Flanders is an Emmy-nominated song from the episode Dude, Where's My Ranch?. In the episode, it was written by Homer Simpson. It was supposed to be a Christmas carol, but when Flanders interrupted Homer's writing of it, he decided to make a hate song about him. After hearing it in Moe's Tavern, guest star David Byrne decided to make it into a CD and have it play all over Springfield on radios, church choirs and karaoke bars. However, after hearing several knock-offs, Homer gives up on the song. The music was written by Alf Clausen and Ken Keeler and the lyrics by Ian Maxtone-Graham and Keeler. It is part of the seventeenth track on the album The Simpsons: Testify. It was nominated for an Emmy award for Outstanding Individual Achievement in Music and Lyrics in 2003. It lost to "Aren't They All Our Children" from the television special The Concert for World Children's Day.
Homer:
Everybody in the USA,
Hates their stupid neighbor.
He's Flanders, and he's really, really lame.
Flanders tried to wreck my song,
His views on birth control are wrong,
I hate his guts, and Flanders is his name!
Homer, Lenny and Carl:
F-L-A-N-R-D-S
Homer:
He's the man that I hate best,
I'd like to see his house go up in flames.
Lenny and Carl:
F-L-A,
Homer:
His name is Ned!
Lenny and Carl:
E-R-S,
Homer:
That's a stupid name!
It's worse than Frankenstein
Or Dr. No!
David Byrne:
You can't upset him even slightly,
He just smiles and nods politely,
Then goes home and worships nightly,
His Leftorium is an emporium of woe!
Lenny and Carl:
F-L-A,
Homer (mocking tone):
Don't yell at Ned!
Lenny and Carl:
D-E-R,
Homer:
His wife is dead! (woman screams)
Everybody hates that stupid jerk!
David Byrne:
Springfield rocks with Homer's joyous loathing,
Filling clubs with angry Valentinos.
You don't have to move your feet,
Just hate Flanders to the disco beat.
Homer and David Byrne:
He's your perky, peppy, nightmare neighborino!
If you despise polite left-handers,
Homer, David and Ned:
Then I doubt you'll like Ned Flanders
Todd:
That's us!
Rod:
Hooray!
Audience:
F-L-A!
Apu:
His name is Ned!
Audience:
E-R-S!
Apu:
He is so white bread!
Homer and Choir:
The smiling moustache geek who walks with God!
Mass dismissed.
Other versions
[
edit
]
William Shatner's Version
[
edit
]
"Sung" by William Shatner (guest voice Maurice LaMarche). This is a parody of Shatner's infamous interpretation of "Rocket Man."
DJ: We're halfway through our Same Song Six-Pack! Now let's hear William Shatner's version of "Everybody Hates Ned Flanders!" Marge: Another cover?! My God, let it die! William Shatner: Everybody... In the U.S... A... Hates...their... Stupid...neighbor... He's the Flanders...man... The Flanders, man... Flanders... (Marge turns off the radio) Marge: I am so sick of that song!
Homer:
Ugh, me, too! I've come to hate my own creation! Now I know how God feels.
Extended Salsa Mix
[
edit
]
This dude ranch is gonna be great. A whole week without hearing that stupid song.
David Byrne:
You won't think it's stupid when you hear the Extended Salsa Mix!
(gets out of the car and starts dancing on the hood)
¡No nos gusta Flanders!
¡Es un hombre estúpido!
¡No nos gusta Flanders!
Watch it, Mr. Byrne! You'll slip on the Simoniz!
David Byrne:
Simoniz?
(Byrne slips on the Simoniz and lands in Moe's car.)
Moe:
Woah. Woah!
David Byrne:
Can you take me to the hospital?
Moe:
Yeah, no problem.
---