The Leftorium
Wikisimpsons - The Simpsons Wiki
The Leftorium
Location Information

The Leftorium was a store in the Springfield Mall that specializes in products for left-handed people.
Description
[
edit
]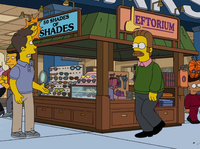 The store was owned by Ned Flanders who quit his job as a clerk for a pharmaceutical company and opened The Leftorium. At first, business at the store was going very poorly, Homer secretly wished that Flanders store would go out of business after receiving the larger half of a wishbone. Homer got his wish and the Flanders family were forced to sell their possessions (much of which Homer purchased at the very low price of $75), the bank repossessed the Flanders home, and the store was about to close. Homer then regrets making this wish and the fact he never told any of his friends, who were in need of left-handed items, about The Leftorium. To atone for his actions, Homer manages to get everyone he knows in town to shop at Ned's store, effectively saving it from bankruptcy.
The Leftorium was looted by a mob, after a hurricane struck Springfield.[1]
The Leftorium continued to trade profitably since this, however there have been times where Flanders has mentioned the store doesn't do that well. Ned once mentioned that he purchased most of his possessions cheaply to make up for his store's lack of business.[2] Later, Ned mentions how a mega left hand store recently opened, called Left-Mart, was threatening his business.[3] It has bullet proof windows.
The Leftorium was eventually downsized to half of a stall in the Mall. It then closed when people started getting their left-handed stuff online.[4]
Non-canon
[
edit
]
| | |
| --- | --- |
| | The contents of this article or section are considered to be non-canon and therefore may not have actually happened or existed. |
The Simpsons: Tapped Out
[
edit
]
This section is transcluded from The Simpsons: Tapped Out buildings/Shops (premium). To edit it, please edit the transcluded page.

The Leftorium
Image
Cost
Build time
Reward
Sell price
Conformity increase
Availability
Unique?
Dimensions -

D

x

W

FREE
6s
150
Vanity +400
The Atom Smasher
Black Friday 2022 Pt. 6
4 x 7
Task
Time
Reward
/h
/h
Restocking Left-handed Cellphones
4h
135, 15
33.75
3.75
Behind the Laughter
[
edit
]
The abundance of left-handers in Springfield is most likely due to their creator, Matt Groening himself, being left-handed. The name is a portmanteau of left[-handed] and emporium.
Appearances
[
edit
]
References
[
edit
]