Mike Scioscia
Wikisimpsons - The Simpsons Wiki
This article is about the character. For the guest star, see Mike Scioscia.
Mike Scioscia
Character Information
Mike Scioscia is a retired Major League Baseball catcher, who played for the Springfield Nuclear Power Plant softball team, and current manager of the Los Angeles Angels of Anaheim.
History
[
edit
]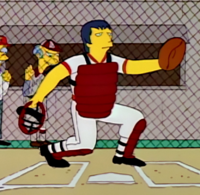 Waylon Smithers, Jr. goes to visit him whilst he was hunting to ask him to come work at the Springfield Nuclear Power Plant so that he could join the softball team. He accepted the job because the job has big machines, as it is less stressful than his baseball career. Despite having been hired just to play softball, he wanted to work instead. As a result, he was hospitalized because of radiation poisoning.[1] He not only recovered from the radiation poisoning, but was also endowed with "super-management powers" by the radiation, which he apparently used to lead the Angels to the World Series and earn his third World Series ring. He was also left with the ability to demagnetize credit cards.[2]
Appearances
[
edit
]
References
[
edit
]