Praiseland
Wikisimpsons - The Simpsons Wiki
Praiseland
Location Information

Praiseland was a Christian theme park in Springfield. It was owned by Ned Flanders.
History
[
edit
]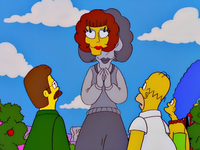 When the Simpson family were getting rid of all traces of Maude Flanders from Ned's house, they found Maude's old sketch book. Ned managed to get the sketch book before Homer destroyed it and found that Maude had made several drawings of Praiseland, a Christian amusement park. Ned thought that this was Maude's last wish and wanted to make it, although it would cost a lot of money to build. Rod, Todd, and the Simpsons convinced Ned to go ahead and build it in the remains of the old Storytime Village amusement park.
Ned went to The Rich Texan, who owned Storytime Village, and convinced The Rich Texan to give him the theme park as a tax write off. Ned and the Simpsons then got to work building Praiseland. When opening day came, Mayor Quimby arrived to perform the opening ceremony and the people of Springfield flocked in. However, the people quickly found the rides and attractions to be bland and boring and eventually they started leaving. When Ned was upset about this, he apologized to a Maude mask. He then dropped the mask and it started to float in front of the statue of Maude. People thought this was a miracle, although Principal Skinner tried to convince them that it wasn't. Skinner then started speaking in tongues before he had a vision of Heaven. Everyone then wanted to pay to also have visions for Heaven. Whilst Ned was hesitant to let people pay to see the visions, he was convinced to give the money to the Springfield Orphanage.
The visions became a big selling point for Praiseland with many people lining up to pay to have them. However, Homer found that the gas wasn't getting to the grill, despite being fully on. Lisa realized that there was a gas leak and Ned found that the leak was next to the statue and was causing the visions. Ned got on the phone to the gas company and found that the gas was very dangerous to people and could cause brain damage. Homer tried to convince Ned to keep the park open anyway as it wasn't guaranteed that people could get hurt. However, Homer and Ned realized that Patches and Poor Violet were about to light candles next to the gas leak. Homer and Ned quickly tackled the orphans away from the leak, causing them to get a bad reputation from the park's customers for attacking orphans. Praiseland was then closed down and returned to The Rich Texan.
Attractions
[
edit
]
Praiseland featured several attractions including:
Rockin' Ark
Solomon's Temple
Ferris Wheel
Souvenirs stall
Non-canon
[
edit
]
| | |
| --- | --- |
| | The contents of this article or section are considered to be non-canon and therefore may not have actually happened or existed. |
The Simpsons: Tapped Out
[
edit
]
This section is transcluded from The Simpsons: Tapped Out decorations/Task decorations. To edit it, please edit the transcluded page.

Praiseland Gate
Image
Cost
Reward
Sell price
Bonus
Conformity increase
Availability
Unique?
Dimensions -

D

x

W

185
N/A
1%
Vanity +100
Homerpalooza, Love, Springfieldian Style, Flanders Family Reunion and Heaven Won't Wait
Premium (Praiseland Promotion)
1 x 6
80
Itchy & Scratchy Land
Premium (Summer Concert Mystery Box; Praiseland Promotion)
Construct Praiseland Wall
Appearances
[
edit
]