Capri Flanders
Wikisimpsons - The Simpsons Wiki
Capri "Kookie" Flanders[1] (née Turnipseed), also known as Mona Flanders[2] and Agnes Flanders,[3][4] is the mother of Nediana and Ned Flanders, the wife of Nedward Flanders Sr. and the paternal grandmother of Rod and Todd.
History
[
edit
]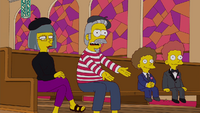 Capri Flanders was a beatnik, revealed when a younger Capri and her husband were seening bringing Ned to Dr. Foster.[5]
Flanders once said "Homer, you met my parents" (to which Homer replied, "Not naked I haven't", as he was naked at the time).[6] She and her husband were later seen attending Ned Flanders and Edna Krabappel's wedding as the only guests aside from Rod and Todd.[7] They also appeared visiting their son at his house, where they seemed to favor Homer's presence over Ned's.[8]
Non-canon
[
edit
]
| | |
| --- | --- |
| | The contents of this article or section are considered to be non-canon and therefore may not have actually happened or existed. |
The Simpsons: Tapped Out
[
edit
]
This section is transcluded from The Simpsons: Tapped Out characters/Flanders Family. To edit it, please edit the transcluded page.

Permanent Tasks
Task
Time
Reward
Requires
Quest with the task
Animated?
Shun Reality Coldly
60m
105, 26
The Java Server or
CBGB
Jive-irino Pt. 1
Overpay for Sex on the Beach
4h
260, 70
Smooches on the Beach
Stay at the Swelldorado
4h
260, 70
Swelldorado
Try to Win at Blackjack
4h
260, 70
$ Casino
Drink and Babysit
4h
260, 70
The Boiled Potato
Jive to Some Cool Cats
4h
260, 70
Jive-irino Pt. 5
Attend Coffee Meetup
4h
260, 70
Jittery Joe's Coffee
Dance the Señor Burns
8h
420, 105
Chez Guevara
Spit Nothing But Facts
8h
420, 105
CBGB
Do Open Mic Night
12h
1,200, 300
Nedward Flanders Sr.
CBGB
Express Disdain for Capitalists
12h
600, 150
IRS or
Capital City Capitol Building or
Gavelby's Auction House or
Town Hall or
Shop
Suffer in Dullsville
24h
1,000, 225
CBGB
Appearances
[
edit
]
References
[
edit
]