Springfield Nuclear Power Plant softball team
Wikisimpsons - The Simpsons Wiki
"Alright you ragtag bunch of misfits, you hate me and I hate you even more. But without my beloved ringers, you're all I've got. So I, uh, want you to remember some inspiring things that someone else may have told you in the course of your lives, and go out there and win!"
―Mr. Burns tries to inspire the team just before the championship game
Springfield Nuclear Power Plant softball team
Sports Team Information
The Springfield Nuclear Power Plant softball team or Springfield Nuclear Power Plant Zephyrs is a team that represents Mr. Burns' nuclear plant in the city softball league. Led by Homer, they do well in the early season and make the championship game against Shelbyville. However, Mr. Burns makes a million dollar bet on the outcome of the game, and decides to ensure victory by bringing in nine Major League players. Homer is replaced on the starting lineup by Darryl Strawberry, and it looks like the team will win without him. However, the Major League players fall to nine separate misfortunes, and Burns is forced to use his old players. In the final inning with bases loaded, Homer gets hit by a pitch, which counts as a hit, and wins the game and the 1992 city championship.
History
[
edit
]
According to Lenny, the team has had a poor history. Prior to 1992, their best season was 1991, where the team had two wins and 28 losses. Following that season, a number of players, including Lenny, Carl and Charlie decided not to play again. However, Homer convinced them to play because he had a secret weapon, his home-made "magic" Wonder Bat.
1992 season
[
edit
]
Original team
[
edit
]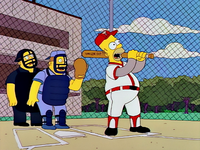 The 1992 team's original lineup consisted of Homer at right field, Lenny, Carl, Charlie, and a number of unknown players. In their opening game against the Springfield Police Department, the Power Plant and was down 5-2 in the ninth with bases loaded. Homer went up to bat and revealed his secret weapon - Wonder Bat - to his team mates. They ridicule him, but Homer manages to hit a home run, and wins the game. The team goes on a hot streak, picking up wins against East Springfield, Fort Springfield (by a score of at least 33-7) and Springfield Heights, thanks largely to Homer and his bat.
Eventually, the only team standing between the Plant and the league pennant is Shelbyville Nuclear Power Plant. When they discover this, Mr. Burns, and Shelbyville plant owner Aristotle Amadopolis decide to make a million dollar bet on the outcome.
Mr. Burns takes over
[
edit
]
Following his wager, Mr. Burns decides to take a more hands-on role in the team and manage them. He decides to replace his current team with a group of Major League ringers who are given token jobs at the plant. He proposes a "dream team" that includes Cap Anson, Honus Wagner and Mordecai Brown, but is informed by Smithers that all of the players are dead. Smithers decides to recruit the team, and is given 24 hours.
Smithers meets with several of the players. Mike Scioscia reveals that he wants to have a more blue-collar job, "with big machines and cool dials and stuff. Like an oil refinery, or hydro-electric plant." José Canseco is offered $50,000 to play, and he accepts the offer, despite it being a pay cut. He also recruits Ozzie Smith at Graceland, visits the home of Don Mattingly, and asks Steve Sax while he's performing with a trio.
Mr. Burns holds a company meeting, where he reveals his new employees: security guard Roger Clemens, janitor Wade Boggs, lunchroom cashier Ken Griffey, Jr. and Steve Sax, Don Mattingly, Darryl Strawberry, Ozzie Smith, Mike Scioscia, and José Canseco (for whom he'll make up jobs later). His old employees are impressed with the new acquisitions, until Burns suggests that the ringers sign up for the softball team. They realize what's going on, and Lenny says "Mr. Burns, with them on the team, you won't need us." Mr. Burns replies with "well, duh!"
The ringers
[
edit
]
The new team practices
[
edit
]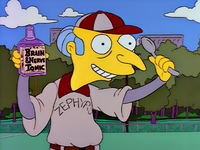 Burns holds a number of practices to get his new team in shape, and he says that nobody is guaranteed a spot on the team. He tells them they can only drink a special Brain & Nerve Tonic which promotes health (but has also been known to cause gigantism). Ken Griffey, Jr. tries it and becomes hooked. Darryl Strawberry takes over right field position, much to Homer's chagrin. Strawberry is a suck-up to Mr. Burns and, according to Homer, Strawberry is "bigger than me, faster than me, stronger than me, and he already has more friends around the plant than I do." Despite this, Homer decides that he has nothing to worry about, as long as he has Wonder Bat. However, the bat is broken in half by a pitch thrown by Roger Clemens.
Mike Scioscia decides to do the job he was hired to do and run the solid contaminant encapsulator, but is chewed out by Burns, who threatens to send him "back to the big leagues". Still, Scioscia still hauls radioactive waste, and is happy that there is no media pressure. Burns hires a Hypnotist to try to convince his team that they are all good players. Burns continually hassles Don Mattingly over his sideburns, even though he does not have any. Burns finally posts his starting line-up, and the nine Major League players have taken over all of the positions. Homer becomes devastated over being replaced.
Burns tells Smithers that his new team is unstoppable, "Unless, of course, my nine all-stars fall victim to nine separate misfortunes and are unable to play tomorrow. But that will never happen. Three misfortunes, that's possible. Seven misfortunes, there's an outside chance. But nine misfortunes? I'd like to see that!"
"Nine separate misfortunes"
[
edit
]
The night before the game against Shelbyville, a number of misfortunes befall the new players.
| Order | Player | Picture | Misfortune |
| --- | --- | --- | --- |
| 1 | Steve Sax | | Pulled over by Eddie and Lou. Sax tries to be friendly, but Eddie and Lou read that he's from New York City, and think that he is the cause of a number of murders. He faces six-consecutive life sentences. |
| 2 | Mike Scioscia | | Scioscia had tried to do his job and run the solid contaminant encapsulator, but comes down with acute radiation poisoning. |
| 3 | Ken Griffey, Jr. | | Comes down with gigantism after drinking too much nerve tonic. |
| 4 | José Canseco | | Comes across a house fire, and rushes in to save a woman's baby. The woman is grateful, and sends him in to save her cat, then her player piano. Saving all those objects takes a lot of time, and Canseco doesn't make the game. |
| 5 | Wade Boggs | | Gets in an argument with Barney over who is the greatest English Prime Minister. Boggs argues for Pitt the Elder while Barney argues for Lord Palmerston. In the end, Barney knocks Boggs out. |
| 6 | Ozzie Smith | | Visits the Springfield Mystery Spot and disappears. |
| 7 | Roger Clemens | | Thinks he is a chicken because of the Hypnotist. |
| 8 | Don Mattingly | | Thrown off the team because Mr. Burns believes he has sideburns. Burns continually hassles Mattingly, until he decides to shave his head. This is still not good enough, and he is thrown off the team. |
The Shelbyville Game
[
edit
]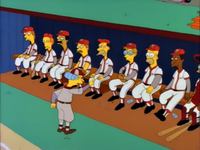 Homer decides to go to the game, but does not expect to play, and his family still decides to come cheer him on. After learning about the misfortunes his players have befallen, Mr. Burns becomes desperate. He tells the old team " you hate me and I hate you even more. But without my beloved ringers, you're all I've got. So I, uh, want you to remember some inspiring things that someone else may have told you in the course of your lives, and go out there and win!" The team enthusiastically runs onto the field, and Homer tries to join them, but is stopped and told that Darryl Strawberry is there.
Strawberry, the only one of the Major Leaguers to play the game, has the game of his life, hitting nine home runs. In the bottom of the ninth, it's a tie game with bases loaded and two outs. Strawberry goes up to bat, but Burns decides to send him to the showers because he and the pitcher are both left-handed. Burns sends Homer in to pinch hit. Burns goes over the signals with Homer, but only confuses him. When he steps up to the plate, Homer becomes distracted by Burns' signals, and gets hit in the head by a pitch. Because the rules state that a hit batter gets to take a base, the power plant scores a run and wins the game and the pennant.[1]
The Indian Point Nuclear
[
edit
]
Before opening a new university, part of the team that played at the last game reunites for another game.[2]
Behind the Laughter
[
edit
]
Of the nine players on the team:

Four have won the MLB MVP award: José Canseco, Roger Clemens, Ken Griffey, Jr. and Don Mattingly (Griffey's win came after the episode had aired).
Three have been inducted into the Baseball Hall of Fame: Ken Griffey, Jr, Wade Boggs and Ozzie Smith.
Seven have won the World Series: Wade Boggs, José Canseco, Roger Clemens, Steve Sax, Mike Scioscia, Ozzie Smith and Darryl Strawberry.
Mike Scioscia technically retired first, as he played his last game in 1992. However, he signed with teams in 1993 and 1994, but never played a game for those teams. He retired in 1994 (he now serves as manager of the Los Angeles Angels), as did Steve Sax.
Ken Griffey, Jr. retired last, on June 2, 2010.
Appearances
[
edit
]
References
[
edit
]