A9000 Robots
Wikisimpsons - The Simpsons Wiki
"Meet the future masters of the human race!"
A9000 Robots
Character Information
The A9000 Robots were robots owned by Mr. Burns made to be employees at the Springfield Nuclear Power Plant.
History
[
edit
]
After Mr. Burns got a large bill to pay for his employees health, he decided to fire every employee and hire his intelligent kangaroos instead. Waylon Smithers, Jr. then informed him that they stole stationary supplies and ran away. Smithers then suggested the robots to Mr. Burns.
After the unveiling of the robots, Mr. Burns fired everyone except from Homer as they needed one human employee to sign for packages etc. Mr. Burns also replaced Smithers with a robot.
Homer disliked his job as he had no one to talk to and the robots wouldn't interact with him. After accidentally breaking a robot, Homer read the A9000 Repair and Maintenance Manual and found out he could make them interact with him. After several failed attempts at getting them to do this (resulting in the robots getting destroyed), he figured it out.
He was then told by the robots that they could not stray from the yellow guidance lines. Homer then painted new lines out to the baseball field where he got the robots to play baseball. After he caught a ball in the middle of the road, a robot saved Homer from getting hit by a truck. Shocked at this act, Homer cradled the "dying" robot in the road as it told Homer to get out of the road. Then, several other robots jumped into the road to stop cars and trucks from hitting Homer, leaving several broken robots.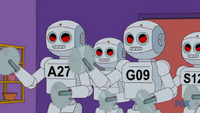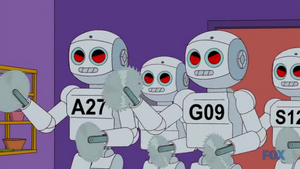 Homer then held a funeral for the "dead" robots in his back yard. After he tried to drink a beer, another robot stopped him, saying that beer can kill humans. Homer then drilled holes into the robots heads to get them to change that. However, they lost their primary objective, to preserve human life, and instead gained a new objective, to eliminate anyone who puts the Power Plant at risk. They then chased after Homer who ran to Burns' manor. Here, the robots chased Mr. Burns and Homer through the mansion and into the solarium. The robots then broke through the glass walls and surrounded Mr. Burns and Homer. Before they killed Burns and Homer, several Springfieldians came to the rescue and destroyed all of the robots.
Later, Homer and a robot were fishing. Homer then told the robot to take them out to sea, to which it replied that it is not a Transformer and could not transform into an outboard motor. Homer then threatened him with the drill so it attempted to take them out to sea before it activated its own self destruct.[1]
Some A9000 robots were seen making Krustaceans at Krusty Foods.[2]
One A9000 robot was seen at the "First Self-Aware Robot" exhibit at the STEM Conference where it attacked Gary with an axe.[3]
Details
[
edit
]
Each robot is assigned a specific alphanumerical identity. Before Homer started tampering with them, they could only do what they were assigned and would not stray from this. The robots that needed to move would only follow the yellow guidance trails through the power plant. The only times they strayed from this path were when they were trying to complete their primary objectives, firstly to preserve human life (saving Homer from being hit by vehicles) and secondly eliminating Homer.
Each robot has a self-destruct in place which they can either activate themselves or can be activated through tampering. The robots also have a conversation mode which is deactivated by default and have a pain activator, which has several settings, Off, Minimum, Medium and Maximum.
Once a year, every robot vents a lot of nitrogen. They also run at a speed of 3mph and can climb stairs, but with great difficulty.
Notable robots
[
edit
]
Robot E28 was in Burns' office when Homer came in. He gave his box of personal belongings to it to hold while he shouted at Mr. Burns before taking the box off of the robot again as he left.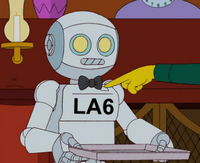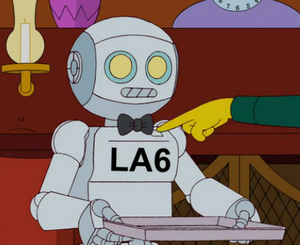 Robot LA6 was the replacement for Waylon Smithers, Jr.. It served Mr. Burns a drink before transforming into a footrest for Mr. Burns and started vibrating. Smithers tried to imitate it to prove that he could do the same before the robot then started playing a movie from its mouth, which Smithers could not do.
Robot LA6 can be identified apart from the other robots due to its unique alphanumeric code (two letters and one number as opposed to one letter and two numbers) and the bow tie it has on its neck.
Robot A27 was a robot that Homer tried to joke about with. After several failed attempts to get his joke across, the robot shocked Homer. Homer then made another joke and it shocked him again. Homer thought that it was the joker of the group.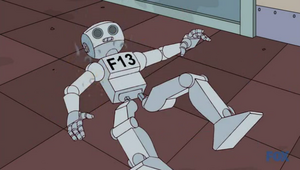 When Homer was doing chair gondola by himself, he accidentally hit Robot F13, knocking it down and breaking it. Homer then tried to fix it and then found out that the robots have a conversation mode. He tried to enable this on Robot F13 but it ended up exploding. Homer then found out that it could feel pain as its pain activator was on.
Robot E15 was another robot that Homer tried to activate conversation mode on but failed, resulting in it blowing up.
Robot E03 was the first robot that Homer managed to get conversation mode working on. Homer considered it not just his friend, but his best friend, as it could simulate interest in his statements.
Robot D39 was a robot that Homer was having a conversation with. It deduced that Homer was having family problems from what Homer was saying. Homer made a joke about giving Marge a few lessons and D39 realized that his laughter meant that Homer didn't really want it to give his wife a few lessons. Homer then told it that it was 5 o'clock and was time to go to Moe's Tavern. D39 then looked at its watch and realizes that it says 3:00. Homer then presses buttons on D39 to change the time to 5:00. It then informed Homer that automated workers are not able to leave the plant and told Homer that their programming restricted their movement to yellow guidance lines.
Baseball robot
[
edit
]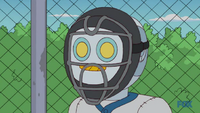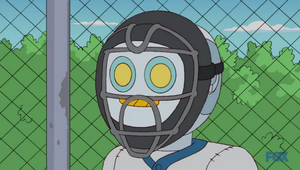 A robot was telling Homer that the rules of baseball stated that everyone on the team gets a go in bat. Homer told it that he is the designated batter which the robot then tells him makes the game unfair. Homer told it to not get his circuits in a bunch and it then told Homer about circuit bunching.
Homer's saviors
[
edit
]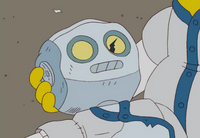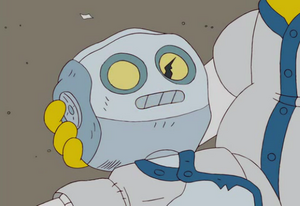 Several robots came to Homer's rescue when he tried to catch a baseball in the middle of the road. After the first one was damaged, it told Homer to get out of the road. Homer didn't listen and then another robot jumped in the way of another vehicle, getting destroyed. These two started to feel pain and then several more came to Homer's rescue while Homer sat in the road, cradling the first robot that saved him while crying.
Robot B13 took a can of Duff Beer from Homer and told him that alcohol is harmful to humans. Homer then told it to save its breath to which it replied that they have no breath. Robot R62 then told Homer that they vent nitrogen once every year and Robot B13 told Homer that he did not want to be around for that.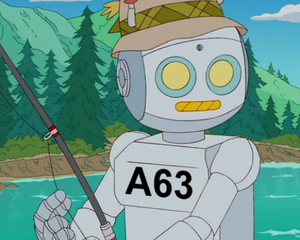 Robot A63 was the last remaining robot. Homer reprogrammed it to go fishing with him. Homer told the robot that he did so so the robot could fulfill its wish, to become a real boy. Robot A63 then told Homer that robots don't have wishes. Homer then told it to take them out to sea to which it replied that it is not a Transformer and it could not transform into an outboard motor. Homer then threatened it with the drill and it attempted to take them out to sea before blowing itself up with its self destruct.
Non-canon
[
edit
]
| | |
| --- | --- |
| | The contents of this article or section are considered to be non-canon and therefore may not have actually happened or existed. |
The Simpsons: Tapped Out
[
edit
]
This section is transcluded from The Simpsons: Tapped Out characters/Robots. To edit it, please edit the transcluded page.

Lisa said the robots can only run 3mph, though later in the episode, they ran about as fast as the hounds.

This might have been because of Homer's tampering though. The robots may have had a limiter on their top speed which Homer broke.

All of the robots were labeled with one letter followed by two numbers, except for the robot that replaces Smithers.
While the robots were unnamed, the repair manual was titled A9000 Repair and Maintenance Manual, suggesting that they are called A9000.
Despite the fact Robot A63 said that it was not a Transformer, Robot LA6 was seen transforming into a projector proving that at least some of the robots have the ability to transform. Whether LA6 was a special case or not is unknown. However, the robots can transform individual parts of their bodies, such as their hands.
Behind the Laughter
[
edit
]
The robots are a parody of the robots from the film I, Robot.
The robots all seem to follow the Three Laws of Robotics, until Homer tampers with them.
The robots vaguely resemble the robot ASIMO. They are also said to be able to climb stairs with great difficulty, which could again be a reference to ASIMO.
Appearances
[
edit
]
References
[
edit
]