Calabresi family
Wikisimpsons - The Simpsons Wiki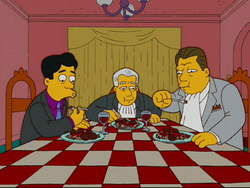 Calabresi family are a crime family in Springfield and rivals to the Springfield Mafia.
History
[
edit
]
When the Calabresi family thought that Fat Tony had gone soft, they attempted to kill him. After this incident, the Calabresis went to Fat Tony's compound for a sit-down with the Springfield Mafia. After clearing up the misunderstanding, Fat Tony and the Calabresis got along again. Michael D'Amico then came into the room with a plate of soufflés for everyone to eat. After Michael revealed that he made them himself, the Calabresi family laughed at him and then left. The Calabresis then attacked Fat Tony in a helicopter, hospitalizing him.
After the Simpsons became involved with the mob, Michael invited the Calabresis to the Simpsons house for dinner, to hand over all of Fat Tony's territory to them in exchange for the safety of his family and the Simpsons. When the Calabresis started eating, they all died because the food was poisoned.
Known members
[
edit
]
Appearances
[
edit
]