Grandma Flanders
Wikisimpsons - The Simpsons Wiki
Not to be confused with Capri Flanders.
"Hello, Joe."
―Grandma Flanders
Grandma Flanders
Character Information
Grandma Flanders was the grandmother of Ned Flanders, who used to live with the Flanders family.
History
[
edit
]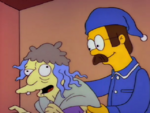 She appeared when a young
Bart
was staying at
the Flanders house
while
Marge
was giving birth to
Lisa
. He was walking down a hallway at night when he ran into Grandma Flanders, who scared him by saying "Can you help me with my sums?". When Ned walked in, she referred to him as "Joe".
[2]
Some years later, she was responsible for babysitting Bart and Lisa along with Rod and Todd while their parents went to brunch together. She appeared to die from shock after Bart said "hell's bells", leaving the children unsupervised, but Dr. Hibbert later informed the Flanders family that she just barely survived. However, she was so weak that just hearing Ned's songs of praise was enough to actually kill her, according to Homer.[1]
Appearances
[
edit
]
References
[
edit
]