Fat Tony
Wikisimpsons - The Simpsons Wiki
Fat Tony, originally known as Fit Tony and later Fit-Fat Tony, is the overweight cousin of the original Fat Tony. He took over the Springfield Mafia after his cousin's death.
History
[
edit
]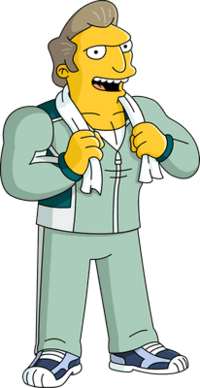 Originally known as Fit Tony, he owned a gym where he worked out all the time. After his cousin's death, he took over from him and led the Springfield Mafia. The stress of it got to him and he put on weight and ended up looking and sounding exactly like his cousin.[2]
He was once briefly married to Selma Bouvier after they met each other at the DMV. Selma thought that Tony was cheating on her, and called him out on it, but it later turned out that she was the goomar and not the wife.[3]
He hands over the Mafia to his accountant, Dan Gillick because he was on jury duty. Tony tried to guide him, although he rushed through it to get to the window seat before the lady that normally gets it. After Gillick fled, Tony resumed control of the mob, but to curb expenses had to limit the entire Springfield Mafia to just one gun, which he kept.[4]
He may have been hired by Homer Simpson to get back loaned money from Bart Simpson.[5]
He later kidnapped Homer and Bart in a scheme involving the creation of a champion race horse.[6] Fat Tony was unaware that his chosen father was homosexual, and wouldn't mate with the female racehorse. Homer and Bart led the female horse to mate with a different horse, and Fat Tony was none the wiser.
Non-canon
[
edit
]
| | |
| --- | --- |
| | The contents of this article or section are considered to be non-canon and therefore may not have actually happened or existed. |
The Simpsons: Tapped Out
[
edit
]
This section is transcluded from The Simpsons: Tapped Out characters/Wise Guys. To edit it, please edit the transcluded page.

Permanent Tasks
| Task | Time | Reward | Requires | Quest with the task | Animated? |
| --- | --- | --- | --- | --- | --- |
| Take Krusty's Payments in Krusty Burgers | 60m | 70, 17 | Krusty Burger | Stress Mafia-Ing Pt. 2 | |
| Keep Cycling Carbs | 4h | 175, 45 | | Stress Mafia-Ing Pt. 1 | |
| Overpay for Sex on the Beach | 4h | 260, 70 | Smooches on the Beach | | |
| Stay at the Swelldorado | 4h | 260, 70 | Swelldorado | | |
| Try to Win at Blackjack | 4h | 175, 45 | $ Casino | | |
| Drink and Babysit | 4h | 175, 45 | The Boiled Potato | | |
| Attend Parenting Seminars | 4h | 260, 70 | Universal Panacea | | |
| Let It Go | 8h | 275, 70 | | Stress Mafia-Ing Pt. 3 | |
| Monitor Whacking Macros | 12h | 420, 100 | Brown House | | |
| Post to His Fitness Page | 24h | 600, 150 | The Java Server | | |
Behind the Laughter
[
edit
]
Foreign dubs
[
edit
]
Appearances
[
edit
]
References
[
edit
]
| | |
| --- | --- |
| | This article about a Simpsons character is a stub. You can help Wikisimpsons by embiggening it. |