The Adventures of Ned Flanders
Wikisimpsons - The Simpsons Wiki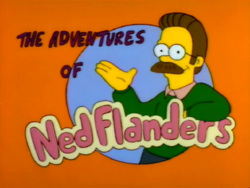 The Adventures of Ned Flanders is a supposed series following Ned Flanders. Only one short was made for the "series". The short was written by Mike Reiss, Al Jean and Sam Simon and aired at the end of "The Front" after they tried "every trick in the book" to extend the episode.
Theme song
[
edit
]
"Love That God"
[
edit
]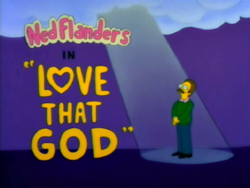 "Love That God" was the only episode made for the series.
Ned comes into Rod and Todd's room and tells them to stop praying as it's time to go to Church. They tell him that they're not going to church today, to Ned's shock. They then tell him the reason that they're not is because it's Saturday. They then all laugh.
Appearances
[
edit
]