Guy with big hand
Wikisimpsons - The Simpsons Wiki
The title of this article is conjectural.
Though the topic is found within The Simpsons universe, a proper name is not available.
Guy with big hand
Character Information
The Guy with a big hand is an employee at the Springfield Nuclear Power Plant.
History
[
edit
]
He is resentful of his hand and of the negative attention he receives because of it. He writes a message on it to confront his coworkers: "I am tired of these jokes about my giant hand. The first such incident occurred in 1956 when..." before cutting off.[1]
He later explains that his hands large size is due to exposure to the radiation in the Plant's reactor core and encouraged Homer to put a donut in the reactor core to make it bigger.[2]
Although it is his most striking external feature, he nonetheless seems to forget sometimes, in which his hands it is the larger and is therefore surprised when he accidentally left his holding up to show to his colleagues. His hand seems to be heavy enough to force him fall.[2]
When the alarm at the Nuclear Power Plant was deactivated, several employees complained about the sudden silence. The guy with the big hand told them to be quiet.[3]
Behind the Laughter
[
edit
]
The man is voiced by Dan Castellaneta, who uses his real voice for the role.
The man's hair is gray in the episodes, and light blue on the cover of Simpsons Comics #133.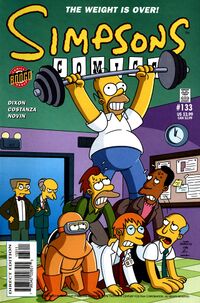 Appearances
[
edit
]
References
[
edit
]