Krusty the Clown
Wikisimpsons - The Simpsons Wiki
For other uses of "Krusty the Clown", see Krusty the Clown (disambiguation).
"Hey hey!"
―Krusty's catchphrase
Herschel Schmoeckel Pinchas Yerucham Krustofsky
Character Information
Herschel Schmoeckel Pinchas Yerucham Krustofsky (last name also spelled Krustofski) is the cynical, burnt out, addiction-riddled smoking clown host of Bart and Lisa's favorite TV show, The Krusty the Clown Show.
History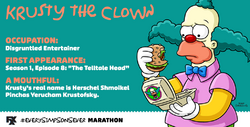 Early life
"Oy vey's mir! You have brought shame on our family!"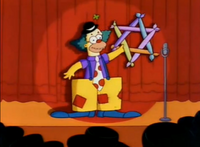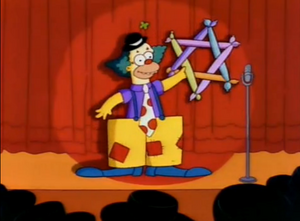 Herschel Krustofsky was born to Jewish parents and grew up in the Lower East Side of Springfield. His father, respected Rabbi Hyman Krustofsky, came from a long line of rabbis, looking for his son to follow in his footsteps. Hyman forbade his son from becoming a clown, but Herschel continued anyway, getting his first laughs at his Yeshiva impersonating his father. His father continued to try and discourage his son, by taking away his props, such as his seltzer bottle. Despite his perseverance at comedy, he was top of his Yeshiva class. He received his comedy break though entertaining the Rabbis at the Talmudic conference. Wearing clown make-up to hide his appearance, he is well received by the crowd, making balloon sculptures of the Menorah and the Star of David. However, when someone sprays water over his face, his identity is revealed, much to the dismay of his father, who disowns him.[6] He never had a Bar Mitzvah.
Early career
After this, Krusty moved to Tupelo, Mississippi, where he worked as a street mime. His first TV appearance was in the 1950s on "The Milk of Magnesia Summer Cavalcade", pretending to be a Russian satellite (and in one of his shows Krusty declares that he was a spy).[7] However, he said the word "Pants" which got him banned from TV for 10 years. He then got another chance on "Laugh-In", but got stuck behind the shutter doors, putting his career back another 22 years.
In 1962, Krusty worked in Las Vegas briefly after running in to Murdering Mort "The Murderer" Murderosi. He was approached to do 1,000 shows at Murderosi's casino, Nero's Trough. Krusty had his own slot machine on stage, but got addicted and chased out by the police. He then went on to Branson, Missouri.
He then got his own television show, The Krusty the Klown Show, which featured Krusty discussing current events with serious guests (an episode of the show dated February 6, 1961, featured AFL-CIO president George Meany and a discussion of the "labor crisis in America").
In 1973, he performed a song of The Doors live in TV (Break on Through (To the Other Side)). Sting opened for Krusty briefly, until he fired him. In the meanwhile, Krusty's interview format got increasingly wacky, and by the 1980s the show had devolved into a children's entertainment show. He hired Sideshow Raheem for a brief period in 1989, however, Raheem was unwilling to go against his faith, to advertise Krusty pork products, and was unwilling to take part in any sideshow stunts. Raheem later resigned, with a drunken Krusty trying to run him over. His show also used to feature the "Krustkateers".
He briefly took up stand-up comedy, and during the Gulf War, he tried to entertain the soldiers (in a manner similar to Bob Hope) by making an off-color pun off of Saddam Hussein's name ("Saddam Hussein?! They should call him "So Damn Insane!!"), as well as having the Cincinnati Bengal Cheerleaders entertain the soldiers, which was controversial at best. However, the show was unexpectedly shut down due to a sandstorm, so he was forced to take refuge in a tent which coincidentally had a Erin whom he later slept with. However, the night of passion quickly turned sour after he ruined her chance at assassinating Saddam Hussein (as well as destroying an entire shipment of Duff beer to the camp at the same time). As a result of the one-night stand, he became the father of Sophie.
During another trip to entertain the troops, he built his act around future troop movements, as a tribute. The court martial sentenced him to death. However, it turned out this was a double of him, as he himself was too coward to go to the war zone, the double also spying on the American forces. The spy was executed.[8]
Sideshow Bob and his arrest
" Why did the clown cross the road?
To rob a Kwik-E-Mart."
Krusty hired Bob Terwilliger as his sidekick after seeing him at his brother, Cecil's attempt to land the job. Krusty and the producers rejected Cecil during his audition, as he lacked the dignity necessary to pull the job off. Krusty then spotted Bob, standing to the side in a suit and looking like he didn't want to be there. Krusty threw a pie-in-his-face, resulting in the top hat he was wearing falling off and his hair springing up underneath. Krusty hired him on the spot. Krusty once had a heart attack on air while trying his own line of pork products, leading to a triple bypass and a pacemaker. He ran his own campaign against illiteracy, "give a hoot, read a book!"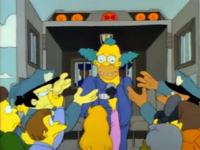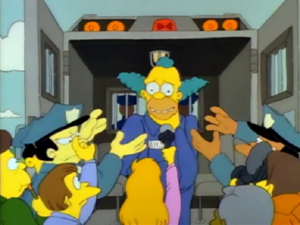 Bob, however, was not happy with the sidekick job and did not appreciate being fired out of a cannon, or having pies thrown in his face. Bob decided to frame Krusty and robbed the Kwik-E-Mart in his guise, being caught on CCTV and witnessed by Homer Simpson. Krusty was arrested by a SWAT force as the news broke out, with Homer positively identifying him as the robber. Reverend Lovejoy led a mass-burning of Krusty merchandise as a result of the crime. At the Springfield Court, after a brief mix up between guilty and not-guilty, Krusty pleads his innocence. Krusty reveals to the court the next day that he is illiterate. The jury reaches a guilty verdict. Sideshow Bob takes over the show for Krusty, who is making the show more cultured, adding in books and psychology. Lisa and Bart meanwhile investigate the crime scene and find that the microwave, which Krusty was apparently standing near, has a no pacemaker sign, as well as finding that in the CCTV footage, Krusty is reading, despite his illiteracy. Bart, Lisa and Maggie decide to visit the television studios to visit to Sideshow Bob, who gives them free tickets as the show is about to start, noticing Bob's large feet. In the audience a saddened Bart watches the show and when Bob notices Bart's emotional state, he invites him on stage for a new psychological segment called Choices. While on stage Bart reveals he thinks that Krusty was framed, however, Sideshow Bob tries to convince him otherwise. While Sideshow Bob is talking to the audience he mentions that he has "big shoes to fill." "Big shoes," makes everything click in Bart's mind. He jumps to his feet and declares that Sideshow Bob is the one who framed Krusty. The police watching the show hear Bart's evidence and arrests Bob. Sideshow Bob reveals that he framed Krusty because he couldn't stand all the antics and felt his intelligence was wasted on the show. Later at the police station Krusty is released and he thanks Bart for his help, him regaining his show.
He later hires Sideshow Mel to replace Bob.
His father and his camp
After breaking down at a dinner hosted by The Simpson family about his estranged father, Lisa and Bart work to get them back together. After the Rabbi closes the door on them and defends his point on radio show Gabbing about God, Lisa studies the books in the library, quoting esteemed rabbis and the Talmud, with the Rabbi countering them. Eventually, the only text left to use (without learning Ancient Hebrew) is by Sammy Davis, Jr., which, during a game of chess with Bart, wins the Rabbi over. During Krusty's show, the pair reunite to "Oh Mein Papa" live on the show, with his father throwing a pie in Krusty's face.
When hearing about Timmy O'Toole, a orphaned boy trapped down a well, he called up Sting, and arranged a charity single. It also featured Bleeding Gums Murphy, The Capital City Goofball, Mayor Quimby, Lance Murdock, Marvin Monroe, Princess Kashmir, Rainier Wolfcastle, Scott Christian, Sideshow Mel and Troy McClure. The song became US #1 for one week, until Timmy turned out to be a hoax by Bart Simpson, leading it to slide down to #97.
"Dear Mom, I no longer fear Hell, because I've been to Kamp Krusty"
Krusty after being offered a dump truck full of money, put his name on Kamp Krusty, a low budgeted summer camp. The institution fed kids gruel and locked overweight children in a fat camp. Krusty never turns up at the camp and the school bullies - Jimbo, Kearney and Dolph; are left to keep order. The kids are forced to make cheap quality wallets and forced to march and hike. When Mr. Black, who runs the camp, tells them that Krusty has arrived, it was actually Barney Gumble dressed up. This drives Bart over the edge and he leads a rebellion, driving out Mr. Black and the bullies, establishing Camp Bart. Krusty, unaware of this while watching Wimbledon in England, comes to apologize to the kids, explaining that he got bribed. He then took the kids to Tijuana, Mexico.
Cancellation
Krusty faced a rival in children's entertainment in the name of the puppet, Gabbo. Gabbo's show is heavily advertised and quickly takes away Krusty's audience and The Itchy & Scratchy Show. Krusty tries to get his own puppet and ends up with Eastern Europe's Worker & Parasite cartoon. Krusty's audience share sinks to rock bottom and is cancelled, leading him into depression. Bart and Lisa work to get Krusty's show back by discrediting Gabbo, leaving a camera on air during an ad-break, letting the audience hear Gabbo's bad-mouthing of the audience. Krusty and Bart then begin to recruit celebrities for a comeback special using Krusty's address book; managing to get Bette Midler, Hugh Hefner, his half-brother Luke Perry and the Red Hot Chili Peppers. Both Elizabeth Taylor and his former sideshow Mel turn Krusty down, while Krusty gets into shape at the Simpsons' house.
The show begins with Krusty singing "Send In the Clowns", and much to his surprise, Mel joins him on stage. He also fires Luke Perry out of a cannon, sending him out of the studio, through the Museum of Sandpaper, through a acidic display in the Kwik-E-Mart and into a Pillow Factory, just as it's being demolished. The show also features the Chilli Peppers performing, Johnny Carson juggling a car, Hugh Hefner playing "Peter and the Wolf" on a wine glass and Bette Midler duetting with Krusty.
Krusty then hired Bart as his assistant, getting him to steal a Danish from Kent Brockman for him. Krusty lets Bart act out a scene on the show which goes wrong, leading Bart to exclaim "I Didn't Do It" and earning him local celebrity status as the "I Didn't Do It" kid. However, overtime the catchphrase loses its effect and Bart goes back to normal life.
The Mafia and Rory B. Bellows
Krusty was running out of cash, due to bets with the Springfield Mafia and settling with celebrities over stolen gags. His accountant opens a Clown college to train local Krusty's. Homer Simpson enrols, while Krusty continues to bet away his money. The Mafia take over the clown college and hunt down a fleeing Krusty. Homer, meanwhile, is milking his Krusty status and so ends on the receiving end of the mafia's attacks. Krusty meanwhile, went to Switzerland for plastic surgery, and ending up with breast enlargements. The mob captures Homer and the Don, Vittorio, who is a fan of Krusty's. He cannot kill him, so offers to spare him if he does the loop the loop trick on the small bicycle. While this is happening, Krusty bursts in and the Don threatens to kill them both unless they do the trick together. They succeed and Krusty pays the $48 he owes.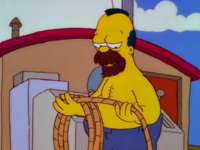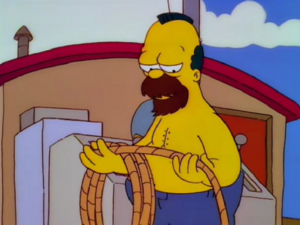 Bart Simpson, Krusty's biggest fan, gained a cheque book and wanted Krusty's signature, slipping a cheque for a quarter in his pocket. However, it is returned a month later stamped by a Cayman Island overseas holding corporation. He takes it down to the bank and Krusty is arrested for tax evasion. The IRS take away 95% of his salary a month, force him to do a show without sideshows, props or a set and take over Krusty Burger. The IRS also sell his mansion, bury veterans in his family plots, sell his stuff (including his pornography) and sell his plane. Krusty cannot take it anymore and seemingly crashes his plane into a rock after flying low over Springfield. His funeral is attended by many celebrities and hosted by Troy McClure, and stamps are unveiled based on him.
"What about being an illiterate clown who's still more respected than all the educators in the country put together!"
―Bart on Krusty's celebrity
However, in reality, Krusty has took up the new alias of Rory B. Bellows, faking his death. Bart believes he sees him at the Doctor's and driving, and so investigates. They discover Rory about to flee to sea and plead with him to stay. They eventually convince him and he dives off his boat, blowing it up and cashing in the heavily insured life of Rory Bellows.
Change in style, retirement and entrance into politics
Krusty agreed to take part in a comedy festival as part of his community service alongside comedians such as Jay Leno. However, his old-fashioned comedy fails compared to the modern comedians around him. After a drunk night, he announces his retirement and while talking about his views on modern comedians, sends the press conference into hysterics, leading him to take up observational comedy and burning a dollar to show it to society. However, he later sells out and becomes spokesman of the Canyonero.
He then discovered he had a long-lost illegitimate daughter, the result of a one night stand during the Gulf War. Sophie and Krusty try to bond, but do not succeed. Krusty later gambles away her violin and sneaks into a meeting of mobsters to retrieve it.
After being pressured by executives to change his show, Krusty retires for a fifth time. Krusty reveals in his interviews that he taped over the old shows featuring Sideshow Bob. Bob gains parole and leaves the prison plotting revenge and training Bart Simpson to blow up Krusty on his farewell show. However the plot fails after Krusty dedicates a song to Bob and Krusty survives to come out of retirement (again).
Krusty was elected to the United States House of Representatives as a Republican after Bart suggested he run in order to stop Air Traffic problems over their house, and with some difficulty, and some underhanded tactics from The Simpsons family with the help of a Janitor, managed to get the bill passed. A year later, he served on a House committee to investigate Ziffcorp – run by Artie Ziff until he lost 98% of the company to Homer for corporate malfeasance.
Bar Mitzvah
Krusty tired to sign himself up on to the Jewish Walk of Fame, but finds himself eligible due to not having a Bar Mitzvah, as his father feared he would not take it seriously. His father agrees to teach him the Jewish beliefs, leaving his show on Saturday (Sabbath) needing someone to fill in for him. He chooses Homer, who hosts a talk show with Lenny (later Barney and Disco Stu), Carl and Moe. The show becomes a success, leading Krusty's show to be cancelled. Lisa tells Homer to teach about the environment and other concerns, but the show is then cancelled due to declining ratings. Krusty pitches his Bar Mitzvah to the FOX network, who take it on as "Krusty the Klown's Wet 'n' Wild Bar Mitzvah", featuring Mr. T, which is a ratings success. This, however, disappoints his father, and so Krusty also has another, more serious Bar Mitzvah.
When Lisa take on the role of tutor to some of the Spuckler children (Whitney, Jitney, Dubya, Incest, Crystal Meth, International Harvester, and Birthday.), she takes them to Downtown Springfield, where Krusty talent scouts them, taking them on as a musical act, their father, Cletus, signing the contract. However, their mother, Brandine, who was fighting in Iraq, voids the contract by revealing that Cletus is only the father to the talentless ones.
On his 4000th show, he announced he was looking for new Krustkateers. At the tryouts Bart competes against Sherri and Terri, Milhouse Van Houten, Ralph Wiggum and Nelson Muntz but unfairly loses to Nelson after Krusty was bribed by Nelson's Mother . Lisa then begins to tell Krusty that he was wrong to put Nelson on the show and suggests that he hires Bart as his intern however Lisa's plan backfires and Krusty hires her instead as his Intern. Nelson is fired. When Mr. Teeny can't make it to one of the shows Lisa takes the opportunity to fill in for him and eventually becomes so successful she runs Krusty's show off the air and begins her own television show named "The Lisa Show" and is nominated for the annual entertainer of the year award. However, after winning Entertainer of the Year and finding out what fame can do to people, she quits the show.
Marriage and Imprisonment
Krusty, is once again approached by two network executives who tell him they need to make big changes in the show, this time to increase ratings of girls. Krusty refuses, but the executives are ready to make a reality show to find his replacement. Desperate to stay, he agrees. The next show, he introduce Princess Penelope. A relationship develops between Krusty and Penelope and Krusty proposes to her. However, realizing that his last 14 marriages have failed, he breaks up with her. Penelope leaves and moves to Paris. Krusty follows her their, and the float down the River Seine together.
In a shock turn of events, it is revealed Krusty has won the Nobel Peace Prize. He takes Homer and Bart with him to Oslo, Norway. As the plane lands, Krusty, Homer and Bart get off to find that they are not in Oslo at all but they were in The Hague, The Netherlands. A Dutch policeman tells them that Krusty is to be arrested and tried at the International Court of Justice for his behaviour in Western Europe. The only way for him to be freed was if there is evidence suggesting that Krusty has helped Western culture, leading Homer and Bart to search for evidence. Bart and Homer desperately search for evidence on the Internet and only find Krusty's bad behavior. They then find something they feel would get Krusty free. At the court, they show the evidence that Krusty inadvertently helped out, by telling the band to play vuvuzelas which led to Nelson Mandela being freed, allowing him to be freed.
Biography
Krusty is a hard-living entertainment veteran who has been down and out several times (being constantly rescued by the Simpson children) and remains addicted to cigarettes and alcohol (and, at one point, Percodan). He seems to suffer from bipolar disorder, and, in a Soupy Sales parody, asked children to send him spare lithium from their parent's medicine cabinets after the nuclear power plant cut off its prescription drug plan. He says that his tolerance levels are so high from years of excess he has to smoke ground-up moon rocks to get high.[9] Krusty – minus his trademark clown-hair, pale "facepaint" and red nose – bears an uncanny physical resemblance to Homer Simpson. However, there also differences such as his cow-skull birthmark, his superfluous third nipple, and his small feet. Krusty, like Homer, has apparently faced heart problems in the past as he currently has a pacemaker. The pacemaker has since permanently made his face white. He also seems to be disturbed at even the mere mention of someone having an affair, as when Homer tells Krusty the Clown that Apu was cheating on Manjula (due to his thinking he'd joke about it), he reacted quite opposite of what Homer expected by saying in a remorseful tone that it was sad, and feeling sorry for all of their kids.[10] Krusty lives in his mansion in the upscale residential area of "Springfield Heights", which is also resided by Mob boss Fat Tony D'Amico and actor Troy McClure.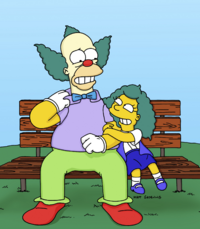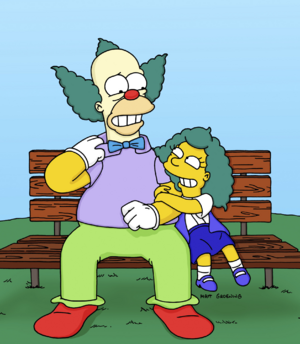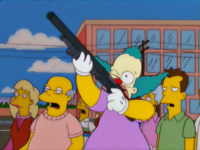 Family
Krusty's father was Rabbi Hyman Krustofsky, and his grandfather was Rabbi Zed Krustofsky. He also has an unnamed sister and a nephew named Josh. Through his mother, Rachel Krustofsky,[3] Krusty is an older half-brother to actor Luke Perry. He has several illegitimate children, one of which is Sophie.
Relationships
Krusty has been married 15 times. He usually gets married to his sideshows, including Eartha Kitt. He rejected Princess Penelope at their wedding in order to keep her from ruining her life as he usually got divorced shortly after. He was also once in a relationship with Edna Krabappel[11] and had sex with Mrs. Muntz, though the latter was Mrs. Muntz's way of bribing Krusty to get Nelson a place as a Krust-ketter.[12] Krusty also had a relationship with Lindsey Naegle.[13]
Problems
Despite his wealth, Krusty is frequently depressed when offstage; the contrast between these two personae is often used as a source of comedy by the writers. Krusty also exhibits laziness, irresponsibility, and promiscuity, amongst other negative traits. He smokes heavily and appears to have a low standard of health. Krusty revealed that he was illiterate during a court case after being framed for armed robbery by Sideshow Bob.[14] His illegitimate daughter Sophie was the result of a one-night stand between Krusty and a female soldier during the Gulf War. Now estranged, her mother has developed a bitter hatred of clowns and displays it with her choice of artwork (depicting violence being performed against clowns), this being because his actions caused her to fail in her mission. Krusty is said to have married 8 different wives, with each wife leaving him.[2] At one point he tried to pick up a girl at some point until he discovered that the chick was actually male, in which the morning after, he tries to get a friend to get him out of the relationship.[15] Outside of personal problems, he has also shown himself to have medical problems. As noted above, he once suffered a Heart Attack on the air. He was also implied to have had heart surgery from another relapse during the time New Springfield was being blacked out by Old Springfield.[16] He also mentioned that he was diabetic once to his daughter.[17] He also implied once that he has several organ problems, causing him to get worried when everyone decided to remove their organ donor stickers upon Bart's point after getting a drivers license at an early age due to saving Springfield from a fire.[18]
Appearance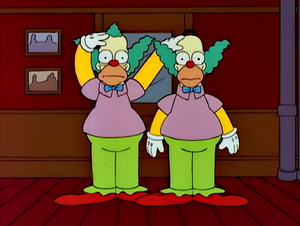 Krusty the Clown has aqua-green tufty hair, as well as a white face (which he once revealed was not makeup). He also wears a light purple short-sleeved suit over a yellow shirt, lime green clown pants with red clown boots, a light blue bow-tie and white gloves.
Products
For a more accurate list see, KrustyCo Inc.
Krusty's profligate spending has resulted in encounters with the local Mafia, not to mention schemes such as running a clown college to turn out proxy Krustys to appear at birthday parties, and running a concentration-camp-like summer camp called "Kamp Krusty". He willingly sells out to commercial interests to sell all manner of second-rate goods – he even has a generic spoken endorsement: "I heartily endorse this event or product!". His lack of care towards the quality of his merchandising is evidenced by the little attention he pays to the names of events he stars in: his Christmas show, "Krusty Kinda Kristmas"; his TV special, "Krusty Komedy Klassics"; and a tennis tournament he sponsored, the "Krusty Kharity Klassic" all use the unfortunate acrostic "KKK" (as in Ku Klux Klan). Unfortunately, the only instance of this he notices is the TV special, and that was only because the initials are shown behind him. In a hindsighted booking decision, Krusty was live at the Apollo Theater at the time.
Non-canon
| | |
| --- | --- |
| | The contents of this article or section are considered to be non-canon and therefore may not have actually happened or existed. |
Future
In the year 2013, Marge Simpson leaves Homer after he blew the family savings on an underwater home. Krusty the Clown then dates Marge Simpson. Homer tries to win Marge's love back by beating him up, and is beaten up himself. Marge Simpson then gets back together with Homer.
Treehouse of Horror
Krusty appears as the Headless Horseman in the opening of "Treehouse of Horror VI", throwing his head at the camera and making his trademark groan.
In the "Treehouse of Horror XIX" segment "How to Get Ahead in Dead-vertising", Krusty is the first celebrity murdered by Homer (albeit unintentionally) for a group of amoral admen's purpose of using his likeness in commercials without having to pay royalties. Enraged, Krusty leads an army of dead celebrities from Heaven to take revenge on Homer and other Springfieldians, killing Homer with a shotgun blast to the head.
The Simpsons Game
Rather ironically, Krusty appears in the level Mob Rules as one of the people Marge can use to protest the sales of the Grand Theft Scratchy videogame to minors. Mini-Krusties appear in Shadow of the Colossal Donut to attack Homer and Bart, spouting out various (and sometimes twisted) Krusty the Clown sound bites. Throughout the game Bart can collect Krusty coupons that he can use to win various Krusty-based trophies.
The Simpsons: Tapped Out
Krusty
This section is transcluded from The Simpsons: Tapped Out characters/B-List Celebrities. To edit it, please edit the transcluded page.

Krusty
Image
Cost
Unlock method
Unlocks with
Unlock message
2,600
Level 7
Made With USDA Letter Graded Beef Pt. 1
Krusty Burger
Technical Information
ID
Groups
Internal Name
10
Regular Characters, Regular Male, Celebrity, Kook, High Roller, Bowler, Adult, Sequel Squad, Krustyland Goers, Republican, Rich People, Normal Springfielders, Golfers
Krusty
Permanent Tasks
Task
Time
Reward
Requires
Quest with the task
Animated?
Go Skating
10m
17, 5
Simpsons' Skating Rink
Try to Make Par
10m
17, 5
Golf Green
Attend a Convention
30m
40, 10
Convention Center
Shop at the Kwik-E-Mart
60m
70, 17
Kwik-E-Mart
Steal Leftover Grinds for "Krusty Koffee"
60m
70, 17
Cappuccino Royale
Dine at the Truffle
2h
110, 27
Gilded Truffle
Show Biz Life
Hit Some Range Balls
2h
350, 80
Driving Range
Shop for Golf Equipment
2h
110, 27
The Golfin' Dolphin
Visit the Track
3h
135, 35
Springfield Downs
Pass on His Wisdom
4h
260, 70
Krusty Clown College
Komedy 101
Go Live With Krusty's Last Gasp
4h
175, 45
Last Gasp Stage
Hang at the Ha-Ha Spa
4h
260, 70
Klub Krusty Adult Retreat
Lay Legally and Financially Low
4h
175, 45
Krusty's Retreat
Go Bowling
4h
175, 45
Furious Fliers
Reflect on His Parenting Skills
4h
175, 45
Springfield Mystery Spot
Attend an AA Meeting
4h
260, 70
Invisible House
Blow His Shofar
4h
260, 70
Jewish Heaven
Go Fancy Shopping
4h
175, 45
Carnaby Street
Drink and Babysit
4h
175, 45
The Boiled Potato
Try to Win at Blackjack
4h
175, 45
$ Casino
Stay at the Swelldorado
4h
260, 70
Swelldorado
Overpay for Sex on the Beach
4h
260, 70
Smooches on the Beach
Audition for Voiceover Work
4h
260, 70
Gold Records on Walls Studio
Steal Jokes
4h
175, 45
The Java Server
Attend Parenting Seminars
4h
260, 70
Universal Panacea
Walk the Jewish Walk of Fame
4h
175, 45
Jewish Walk of Fame
Drive the Sleigh
4h
175, 45
Krusty Sleigh
Take a Medically Induced Nap
4h
175, 45
Film Director's Trailer
Host an Award Show
4h
175, 45
Sportswardsies Center
Check for New Props
4h
175, 45
Fool Locker
Shop for New Props
4h
175, 45
Mirrored Blocko Store
Inflate his Own Importance
6h
225, 55
All Eyes on Krusty
Egoin' Crazy Pt. 1
Relax Like a One Percenter
6h
350, 90
Krusty's Mansion
Smoke Retro Style Cigarettes
7h
250, 60
Retro Style Townhouse
Dance the Señor Burns
8h
420, 105
Chez Guevara
Promote a New Product
8h
275, 70
Krusty Burger
Kramp Krusty
Gamble With an Ancient Curse
8h
275, 70
Grand Pyramid
File a Lawsuit
8h
275, 70
Anime Krusty Burger
Ask for a Pay Advance
8h
275, 70
Ding-A-Ling Front Office
Stare Doom in the Face
10h
525, 135
Rocket to Your Doom
Walk Mr. Teeny
12h
840, 200
Mr. Teeny
Monkeys Need Exercise Too!
Search for New Fans
12h
420, 100
It Blows
Have a Clandestine Meeting
12h
420, 100
St. Basil's Cathedral or
Businessman's Social Club or
Classy Girls Strip Club or
Brown House
Enjoy a Night at the Theater
12h
420, 100
Springfield Playhouse
Attend a Clampitheater Show
16h
750, 200
Springfield Clamphitheater
Try to Argue His Way In
16h
500, 125
Celebrity Heaven
Sign Autographs
24h
600, 150
Android's Dungeon
Score a Room
24h
600, 150
Rio Days-Inn-Ero
Costumes
Behind the Laughter
The character of Krusty was partially inspired by real-life clown Rusty Nails whom Simpsons creator Matt Groening watched as a child while growing up in Portland, Oregon. Some of his biographical details echo those of comedian Jackie Mason, who voices Krusty's father, including being the son of an Orthodox rabbi, and being temporarily banned from television due to a controversial performance.
Krusty's character was also partially inspired by real-life clown J. P. Patches, who hosted a long-running children's show which was aired in the greater Seattle area.
Krusty's appearance and design is basically just that of Homer Simpson with clown make-up. Groening said that "The satirical conceit that I was going for at the time was that The Simpsons was about a kid who had no respect for his father, but worshipped a clown who looked exactly like his father," a theme which became less important as the show developed. One concept initially saw Krusty being revealed as Homer's secret identity but the idea was dropped for being too complex and because the writers were too busy developing the series. The idea of Homer as Krusty, however, was revisited in "Homie the Clown", where Homer takes a job as a Krusty double, only to get abducted by Fat Tony, who mistakes Homer for Krusty partly due to the resemblance.
It has been stated by Groening that the voice of Krusty was based on the long-time Chicago version of Bozo played by Bell.
Foreign dubs
Trivia
Krusty stated that he weighs almost 200 pounds, but he also has 30 pounds of makeup on, and he also carries heavy weapons.[19]
In "Colonel Homer", when Krusty was throttling Sideshow Mel, he shouted "I thought I told you to stay away from my sister!". Whether he was referring to Barbara Van Horne or someone else is unknown.
Krusty the Clown was managed by the slick manager of United Parasites.[20]
Appearances
Shorts:
Episodes:
Specials:
Adverts:
Butterfinger Adverts:
Simpsons Illustrated:
Simpsons Comics and Stories:
Simpsons Comics:
Bartman:
Itchy & Scratchy:
Radioactive Man:
Bart Simpson's Joke Book:
Krusty Comics:
Treehouse of Horror:
Bart Simpson:
Futurama Crossover:
Comic Strips:
Holiday Humdinger:
Super Spectacular:
Winter Wingding:
Summer Shindig:
Comic Book Guy: The Comic Book:
Homer for the Holidays:
One-Shot Wonders:
Other Comics:
Video Games:
Books:
Merchandise:
References
This article is covered by multiple navigation templates. Click "show" to view.