Radioactive Man
Wikisimpsons - The Simpsons Wiki
This article is about the black and white serial. For the 70s series, see Radioactive Man (TV series).
Radioactive Man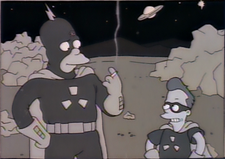 Radioactive Man and Fallout Boy

TV Show Information

Radioactive Man was a black and white television series that aired at some time before the 1970s. It was about the exploits of Radioactive Man and his sidekick Fallout Boy and was based on the comic book series of the same name. The series was sponsored by Laramie Cigarettes; consequently, Radioactive Man often smoked during the series.[1]
Non-canon
[
edit
]
The contents of this article are based on an issue of Simpsons Comics or another comic series and is considered to be non-canon and may not have actually happened/existed.

The reason behind this decision is: .
When everyone in Springfield except Bart gets super powers from a nuclear explosion, Bart, as Bartman, attempts to bring the Radioactive Man from a rerun of the show. He and enemy Beak-Boy came out the TV and into real life. However, they were not the characters but the actors, Dirk Richter and Mel.[2]
Appearances
[
edit
]
References
[
edit
]