Cletus Spuckler
Wikisimpsons - The Simpsons Wiki
This article is about the hillbilly. For the Cletus who was married at Shotgun Pete's, see Cletus (I Married Marge). For the robot, see Cleatus the Football Robot.
"Oh my gosh, it's an outhouse sent from the future"
―Cletus Spuckler
"Hey, I'm in here"
"Be quiet robo-potty!"
―Cletus Spuckler
"Okay"
Cletus Del Roy Spuckler
Character Information
Cletus Del Roy Montfort Bigglesworth Spuckler, also known as Cletus the Slack-Jawed Yokel, is a stereotypical redneck with a good-natured personality, he is thin and is usually portrayed wearing a pair of jeans. He resides with his family on Rural Route 9 in Springfield.
Biography
[
edit
]
Growing up, Cletus, developed a loving relationship with his mother, whom he addresses as 'Maw'. He married a close relative, Brandine Spuckler. He has several hobbies which include whittling "piney babies" for children, searching for roadkill, digging through garbage, and spending time with everyone in his family. He admits his favourite food is fresh skunk and raccoon, and had a "smell-hound" named Geech.[1]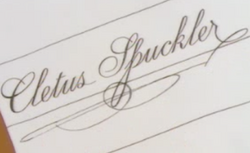 Cletus suffered from some sort of illness caused by drinking mercury out of a thermometer, which badly affected his memory, but for which, of course, he never sought medical attention. He whittles what he observes into wood with a penknife. Chief Wiggum was able to track down Bart and Gina after they escaped from jail through Cletus' wood carving of them. Cletus also possesses a form of precognitive vision through whittling. He predicted that Chief Wiggum would be mauled by a bear later in that episode.
Cletus and Brandine have a basically happy relationship but often bicker. Cletus once showed more love to a pig than Brandine. Once, she wielded a shotgun at him for giving the pig "a day of beauty and make-up" instead of herself.[2] Cletus and Brandine were once rejected from coming to Lenny's party after they are both afraid to use the "uppity box" (an elevator).[3]
Cletus works as a fifth generation dirt farmer. He also owns a successful chain of moonshine stills, and was delighted when it was decided that his drink would be used to flavor the latest version of Southern Cracker.[4] He and Brandine operate a vegetable shack near the Kwik-E-Mart.[5] He is currently in the process of opening a family business that sells miscellaneous animal parts. Cletus took advantage of the money his children were making and used it to his own personal satisfaction.[6]
During Trappuccino, Cletus successfully distracted Russ Cargill while the town tried to escape through a hole in the top of the dome by rope. However, Homer came down the rope at the same time after climbing up the Dome, knocking everyone, including Cletus, off the rope. Dr. Nick Riviera was the only fatality.[7]
Cletus plays the washboard in the Spuckler Family Band.[8]
Appearance
[
edit
]
Cletus dresses in a sleeveless tattered white shirt and blue pants. He also has a snake tattoo on his arm. Snake has the same tattoo.
Relationships
[
edit
]
Cletus has an ongoing relationship with Brandine, who is generally represented as his wife, although the nature of their exact relationship is somewhat vague. It is often implied that the two are siblings. At an auto racing event, Brandine remarks "Dang, Cletus! Why'd you have to park so close to my parents?" to which Cletus responds, "Now honey, they's mah parents too!" however, he may mean that they are his in-laws.[9] (This plays into the stereotype that incest is prevalent among hillbillies).
Homer, who was ordained over the Internet as a minister, was once preparing to marry Cletus and Brandine. Looking at a form, he asked "Wait a minute... are you two brother and sister?" Brandine replied, "We's all kindsa thangs.[10]" To complicate the issue further, Brandine remarked to Cletus "Yer tha best husband – and son – I've ever had.[11]" If all this is correct, it is to be assumed that "Maw" is his stepmother and Brandine is his natural mother, his father being Brandine's father making him her half-brother and son. Further confusing matters, one of Cletus' sons create a hand-drawn family tree. According to this diagram, Brandine is the child of Cletus and an alien.[12] Cletus and Brandine have thirty-nine children, which include a sheep and a walking hot dog.
At some point, he had a relationship with Edna Krabappel.[13]
Children
[
edit
]
Cletus seems to be the father of a large number of children, by some accounts as many as 44. When he presents Marge with 300 coupons for free pretzels from her pretzel business,[14] he calls out to Tiffany, Heather (twice), Cody, Dylan, Dermot, Jacob, Jordan, Taylor, Brittany, Wesley, Rumer, Scout, Cassidy, Zoe, Chloe, Max, Hunter, Kendall, Caitlin, Noah, Sasha, Morgan, Kyra, Ian, Lauren, Qbert, and Phil. Cletus and Brandine also have a daughter, Condoleezza Marie, who was somehow switched with a bag of sugar that Homer was carrying as part of a parenting exercise, and a daughter named Rubella Scabies, whose middle name was inspired by a word spelled by Lisa in her audition for the annual spelling bee. They have another daughter, Gummy Sue.[15] Lisa encounters Cletus gathering up roadkill for a hillbilly wedding feast. In the short dialogue that ensues it is implied that Brandine is giving birth to yet another child in the truck's cab.[16] The children's names seem to mock the pretentiousness that celebrities have in giving their own children "cute", unorthodox, or non-traditional names, as well as the propensity of the white-trash and the uneducated to copy this trend.
Lisa once tutored seven of the Spuckler children, named Birthday, Crystal Meth, Dubya, Incest, International Harvester, Jitney and Whitney. However, Brandine reveals that Cletus is the father of only two of these children (casting doubt on the paternity of the other children of the Spuckler household).[17] Brandine was once seen to give birth in a car, apparently with very little pain, and asking Cletus to cut the "umbrellical cord". After one of his children, Carl, is accused by Homer of cheating at soccer, Cletus says of his children, "I have sired a dumb-dumb, a mush-head, a whatsit, a dogboy, and something with a human face and fish body what we called Kevin. But my young'uns is not dirty players!" [18]
One of their daughters, Mary Wrestlemania Spuckler, who is supposed to wed Bart. [citation needed] Cletus mentions that they "name all their kids after what they think is gonna happen to them. Ain't that right, 'Stabbed In Jail'?" to which Stabbed In Jail Spuckler (who is seen sharpening a wooden stick) replies, "We'll see who stabs who."[19]
Last name
[
edit
]
Brandine refers to him as Cletus Del Roy Spuckler, implying that Del Roy is his middle name and Spuckler is his last name.[20] Cletus signs this as his name in surprisingly elegant cursive to Marge's petition to ban sugar from Springfield.[21][22]
Non-canon
[
edit
]
| | |
| --- | --- |
| | The contents of this article or section are considered to be non-canon and therefore may not have actually happened or existed. |
At age 43, he is the vice-president of the United States. He attends the funeral of the Sultan of Brunei.
In a "Treehouse of Horror" issue of Simpsons Comics, Brandine (off-panel) is attempting to give birth to a child to completely fill out a set of Seven Dwarfs costumes. In Simpsons Comic #113, It is revealed that Homer and Cletus are cousins twice removed, which partly explained their similar dress code of white shirts and blue pants, and their lazy personality.
The Simpsons Game
[
edit
]
Cletus appears in the level Invasion of the Yokel-Snatchers as an alien abduction victim who at that time was going to purchase a flat-screen HDTV at the Springfield Mall. He also appears in Mob Rules as one of the people Marge can use to protest the sales of the Grand Theft Scratchy game to minors.
The Simpsons: Tapped Out
[
edit
]
Default
[
edit
]
This section is transcluded from The Simpsons: Tapped Out characters/Oddballs. To edit it, please edit the transcluded page.
Cletus
Image
Cost
Unlock method
Unlock message
1,100
Level 6, Cletus's Farm
Slack Jawed Yokel Pt. 1
Permanent Tasks
Task
Time
Reward
Requires
Quest with the task
Animated?
Go Skating
10m
17, 5
Simpsons' Skating Rink
Go for a Checkup
10m
17, 5
Hibbert Family Practice
The Cletus Condition
Attend a Convention
30m
40, 10
Convention Center
Whittling
60m
70, 17
Hey Whittle, Whittle
Look for Second-Hand Underwear and Toothbrushes
60m
70, 17
You Only Own Twice
Feed His Supervisor
60m
105, 26
Slaghold
Check Out the Rich Neighbors
60m
70, 17
Truck Shack
Order Dog Sirloin
60m
70, 17
Barking Good Butchery
Grab a Slice of Pizza
2h
175, 40
Vesuvius Pizza
Work at the Dice Den
2h
110, 27
Cletus's Dice Den
Harvest Copper Wire in the Brown House
3h
135, 35
Brown House
The Mysterious Brown House Pt. 4
Code Brown
De-louse the Young-uns
4h
175, 45
Cletus's Farm
It's Either This or a Bath
Overpay for Sex on the Beach
4h
260, 70
Smooches on the Beach
Stay at the Swelldorado
4h
260, 70
Swelldorado
Try to Win at Blackjack
4h
175, 45
$ Casino
Enjoy a Night Without Kids
4h
175, 45
Resort Hotel
Drink and Babysit
4h
175, 45
The Boiled Potato
Spy on Kids
4h
260, 70
Giant Ferris Wheel
Pick Up Scrap Parts
4h
175, 45
Springfield Destruction Derby Ground
Attend Parenting Seminars
4h
260, 70
Universal Panacea
Strip Copper from Mansion of Solid Gold
6h
350, 90
Mansion of Solid Gold
Spend The Welfare Check
6h
225, 55
Sneed's Feed & Seed
Self Medicate
8h
275, 70
Cletus's Farm
Dance the Señor Burns
8h
420, 105
Chez Guevara
Dig through Garbage
12h
420, 100
Dumpsters
Back Alley Soufflé
Have a Siesta
12h
600, 150
Havana Private Home
Enjoy a Night at the Theater
12h
420, 100
Springfield Playhouse
Try to Get an Autograph
16h
500, 125
Springfield Demolition Derby
Brew Moonshine
24h
600, 150
Cletus's Farm
Let Yer Hillbillies be Hillbillies
Manager Cletus
[
edit
]
This section is transcluded from The Simpsons: Tapped Out characters/Homerpalooza Hip Hop 2017. To edit it, please edit the transcluded page.

Permanent Jobs
| Task | Time | Reward | Requires | Quest with the task | Animated? |
| --- | --- | --- | --- | --- | --- |
| Go for a Spin | 60m | 105, 26 | Cletus' Monster Truck | Dollar, Dollar, Hills Y'all Pt. 1 | |
| Manage a Brand | 4h | 260, 70 | | Dollar, Dollar, Hills Y'all Pt. 5 | |
| Scout for Talent | 8h | 420, 105 | Shop | Dollar, Dollar, Hills Y'all Pt. 2 | |
| Test Moonshine Products | 12h | 600, 150 | Cletus's Farm | | |
| Comp Expenses | 24h | 1,000, 225 | Cletus's Farm | | |
Behind the Laughter
[
edit
]
Cletus' first name came from writer Jeff Martin's boyhood little league baseball coach in Houston, Texas.
Cletus was introduced during the fifth season in "Bart Gets an Elephant". He is shown as one of the "slack-jawed yokels" gawking at Bart's elephant Stampy. Cletus' voice is slightly deeper in this initial appearance than in later episodes. He, like Captain McCallister before him, was the go-to character for a quick laugh on the show, and is a staff favorite. He was introduced as a character in "22 Short Films About Springfield". The episode featured bluegrass music played on a banjo accompanied with different taglines stating the abnormal things Cletus has done including eating a skunk and losing a toe.
Appearances
[
edit
]
This article or section is incomplete.


Please improve the article, or discuss the issue on the talk page.

References
[
edit
]
Factfiles from Simpsons World the Ultimate Episode Guide: Seasons 1-20
Season 14
Rock Stars • Audrey McConnell, Third Grade Teacher • Dr. Velimirovic, Plastic Surgeon • Mitch Hartwell, the Reality Channel Producer • Junior (AKA Frank Grimes, Jr.) • Teacher of the Year Award Nominating Committee • Dexter Colt, Private Eye • The Mugger • Larry H. Lawyer, Jr. • Baby Stink-Breath • Booberella • Sara Sloane, Hollywood Movie Star • Cookie Kwan, Red Coat Realtor • Stark Richdale • Declan Desmond • Julio and Grady • Luke Stetson, Junior Wrangler • Suds McDuff, Spokesdog/Mascot for Duff Beer • Marriage Counselor • Jim Proudfoot • Don Castellaneta