Jewish Walk of Fame
Wikisimpsons - The Simpsons Wiki
Springfield Jewish Walk of Fame
Location Information

The Jewish Walk of Fame is a sidewalk embedded with large star-engraved stones dedicated to various notable Jews in the entertainment industry. The Walk is located in Springfield's Lower East Side neighborhood.
History
[
edit
]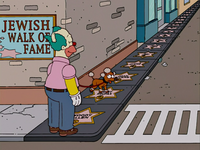 Krusty once walked along the sidewalk after adopting a puppy he got from the Simpsons. He became disappointed when he discovered that he didn't have a star of his own. Upon visiting the head office and requesting his own star, Krusty was denied on the grounds that he had never had his Bar Mitzvah.
Inductees
[
edit
]
People with stars on the Walk of Fame include Woody Allen, Sandy Koufax, Joan Rivers, Jon Lovitz, Albert Einstein, Shari Lewis, Lamb Chop, Henry Winkler, Lorne Michaels, Chaim Potok, Billy Crystal and Larry David.
Non-canon
[
edit
]
| | |
| --- | --- |
| | The contents of this article or section are considered to be non-canon and therefore may not have actually happened or existed. |
The Simpsons: Tapped Out
[
edit
]
This section is transcluded from The Simpsons: Tapped Out buildings/Miscellaneous buildings (premium). To edit it, please edit the transcluded page.

Jewish Walk of Fame
Image
Cost
Build time
Reward
Sell price
Conformity increase
Availability
Unique?
Dimensions -

D

x

W

250
6s
150
Yahweh (25)
Obedience +20
Clash of Creeds: Christmas Royale
Premium
12 x 12
1
Northward Bound and The Atom Smasher
Gold Mystery Box
1
A Warmfyre Welcome
Shattered Dreams Mystery Box (after event completion)
Task
Time
Reward
/h
/h
Chiseling Orthodox Sidewalk Stars
12h
300, 30
25
2.5
Behind the Laughter
[
edit
]
The Jewish Walk of Fame is a parody of the Hollywood Walk of Fame, but with Star of David-shaped stars.
Appearances
[
edit
]