Les Simpson
Wikisimpsons - The Simpsons Wiki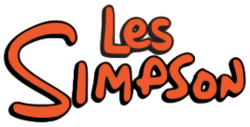 For the France version of Les Simpson, see Les Simpson (France).
Les Simpson is the name of the Quebec French dub of The Simpsons.
Characters
[
edit
]
All characters speak Quebec French with a strong Québécois accent, except the town's elite (e.g. Principal Skinner and Reverend Lovejoy, who speak International French) and ethnic minorities also have different accents. Apu speaks creole while Carl has a African or Caribbean Black immigrant accent. Santa's Little Helper becomes "Le p'tit renne au nez rouge", the French for the song Rudolph the Red-Nosed Reindeer.
Cultural references
[
edit
]
American cultural and political jokes are occasionally replaced with local references (e.g. Newt Gingrich reference replaced with a Mike Harris reference). Also American TV shows and films are often changed to reference Québécois ones (e.g. Homer goes from watching CSI:Miami to watching Fortier). The word "English" is often changed to the word "French". A more specific change was in "Midnight Rx", where the stereotypical English Canadian spoke French and the stereotypical French Canadian spoke English. In another episode English Canadians were given a stereotypical American accent, despite the main characters not having this.
Translation
[
edit
]
For a while the animation was not changed, with English text being subtitled or spoken by a character. The only exception to this was the chalkboard gag, shared by both dubs. In later episodes text was changed as well ("Co-Dependent's Day"'s" "Cosmic Wars" became "La guerre de l'espace").
Catchphrases
[
edit
]
As well as translating original catchphrases (see table below), the France version has created some of its own. Homer says "Oh my God!" as "Ouh pinaise!" (based off "oh punaise!", French for "oh darn!"). Homer is unable to pronounce words such as "bibliothèque" (library), instead saying "bilibibiothèque".
| Catchphrase | Québécois version | Translation |
| --- | --- | --- |
| "D'oh!" | "Oh!"1/"D'oh!" | |
| "Eat my shorts" | "Mange de la crotte" | Loosely, a less offensive form of "Eat shit" |
| "Why you little..." | "Mon p'tit verrat" | You little brat |
| "I didn't do it" | "J'ai rien fait" | "I did nothing" |
1First few season
Voice actors
[
edit
]
A team of voice actors dub two episodes a day. In general they also voice the celebrities.
The Quebec dub airs on Télétoon.