Baby on Board
Wikisimpsons - The Simpsons Wiki
For the album version, see Homer's Barbershop Quartet (Medley).
"Baby on Board"
Song Information
"Baby On Board" is a song written by Homer Simpson as part of his barbershop quartet, The Be Sharps, along with Principal Skinner, Apu and Barney Gumble.
History
[
edit
]
Homer had the idea while he was trying to create a song for The Be Sharps and Marge showed him a Baby On Board sign she was going to put in her car. This song ended up being the number one hit of The Be Sharps. Some years after the quartet split, they reunited to sing the song on the rooftop of Moe's Tavern.[1]
An instrumental version of the song has been heard playing as background music at the Kwik-E-Mart.[2]
Seymour Skinner:
Ba-bum, bum bum.
The Be Sharps:
Baby on board, how I've adored
That sign on my car's windowpane.
Bounce in my step,
Loaded with pep,
'Cause I'm driving in the carpool lane.
Call me a square,
Friend, I don't care.
That little yellow sign can't be ignored.
I'm telling you it's mighty nice.
Each trip's a trip to paradise
With my baby on board!
Behind the Laughter
[
edit
]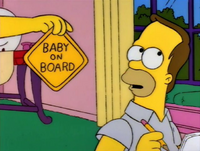 Appearances
[
edit
]
References
[
edit
]