Joe Namath
Wikisimpsons - The Simpsons Wiki
This article is about the character. For the guest star, see Joe Namath.
Joe Namath
Character Information
| | |
| --- | --- |
| Gender: | Male ♂ |
| Status: | Alive |
| Hair: | Gray |
| Occupation: | Football player |
| Relatives: | Wife: Unnamed |
| First appearance: | "Bart Star" |
| Voiced by: | Himself |
Joe Namath is a professional football player.
History
[
edit
]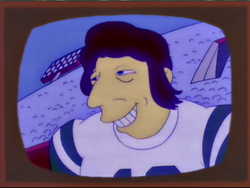 In 1969, while Abe watched Super Bowl III, Mona came in to talk to him, but he wanted to watch TV instead. On the TV they talk about Joe Namath, who's swaggering off the field, and Howard Cosell says that his sideburns are an apogee of sculpted sartorium, the foppish follicles pioneered by Ambrose Burnside, Appomattox 1865. His untamed facial hair revealed a new world of rebellion and change to Mona, that for her was a world where doors were open for women like herself. Abe doesn't like him as he looks like a girl, but he likes Johnny Unitas.[1]
When Bart is practicing throwing his football, he says he needs a miracle for him to be good. With luck, Joe Namath appears saying his car has just broken down, due to vapor-lock, in front of his house. He is just about to give Bart the one tip that will provide ultimate success for Bart in Pee-Wee football when his car starts running again and forgets to tell Bart his secret.
He later appears again, talking to someone saying that they had a lot of fun that night but there's nothing funny about vapor lock. He says it's the third most common cause of car stallings.[2]
One of the items on the walls of Sorhead McDrunkard's Irish Pub is a baseball bat signed by Joe Namath.[3]
After Bart pulls a prank that brings a lot of people to their knees, Joe Namath hurt his knees, which made the forty years of healing all for nothing.[4]
Behind the Laughter
[
edit
]
Joe breaks the fourth wall when he warns users about vapor lock.
Appearances
[
edit
]
References
[
edit
]