Warburton Parker
Wikisimpsons - The Simpsons Wiki
"My name is Warburton Parker. I'm a stranger to you. Why should you listen to me? You don't know my backstory. Well, here it is."
―Warburton Parker
Warburton Parker
Character Information
Warburton Parker is a hipster branding expert who specializes in YouTube and MyTube.
History
[
edit
]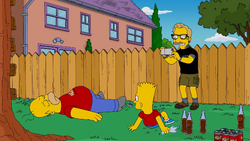 According to Warburton Parker, as a child, Parker's only friend was his computer and he was teased every day. Then he became a pro-snowboarder, married a supermodel, went into the tech business, made a fortune, bought the factories where the kids whose parents who teased him worked and shut the factories down.
When Marge gave Homer the idea to create his own online sports talk show, Walkoff Homer, Bart, who was watching from the doorway, hated the show so he decided to mess with it. This escalated into a fight between Homer and Bart which became a viral hit on MyTube. Warburton Parker then went to the Simpson house where Homer identified him as a hipster and told Marge to get Parker a microbrew, Bitter Brewer. Parker then offered Homer and Bart his services to get them sponsorships in order to better capitalize on their videos. To convince them, Parker showed Homer and Bart a video of a monkey smelling its finger before falling out of a tree, which Homer found hilarious. Homer and Bart then agreed to work with him.
Parker started off Homer and Bart with a Buzz Cola sponsorship, having them fight whilst spraying each other with Buzz Cola. This led to them earning their first check of $5,000, which Parker gave them at Utica Wild Thighs, which he revealed to be the next sponsor for their videos. He then filmed Homer and Bart as they fought in the restaurant. During this period, Homer and Bart started to bond closer, which was then caught on camera, leading to their image being shattered and people to take a dislike to them since they didn't actually hate each other.
Homer and Bart went back to Parker to ask him to help their image. Parker then decided that they should have a comeback, having a live stage show in front of influencers and taste makers to remake their brand. He took them to the Springfield Bowl where they were to take part in Mortal Kombat: Live Online, sponsored by Netflix, Axe Body Spray and Trident gum. He got them prepared to fight with real weapons and sent them on, having them read from a script which included mentions of the sponsors. However, Homer and Bart couldn't go through with it and hugged on stage, losing the audience and causing Warburton Parker to walk away.[1]
When Mr. Burns' brandy company Mr. Gentleman Sipping Brandy was failing, Smithers brought in Warburton Parker to help with the branding. Parker explained to them that all the best liquor companies had celebrities endorsing the products. When Burns heard that everyone liked the new football player Grayson Mathers, Burns decided to get him as the face for his brandy. Burns then got Smithers to send Parker down a trap door.[2]
Personality
[
edit
]
Warburton Parker is a hipster so likes stuff that he deems to be "uncool". He's also very aggressive in his marketing role, forcing obvious product placement into the videos he helps to produce. This goes as far as not listening to his clients concerns about what they are doing for the videos. Parker was also willing to let Homer and Bart kill each other just to get viral, proving that he cares more about money than his clients well being.
Parker supposedly has many talents, including being a tech mogul who made a fortune and a professional snowboarder, at least according to his backstory. He also comes across as petty, as he told Homer and Bart that he bought the factories where the parents of the kids who teased him worked and shut them down.
Behind the Laughter
[
edit
]
Whilst not stated in the episode, Warburton Parker is intended to be the great-grandson of Colonel Tom Parker, the manager of Elvis Presley.[3]
Appearances
[
edit
]
References
[
edit
]