Marge Simpson
Wikisimpsons - The Simpsons Wiki
"Marge" redirects here. For other uses of "Marge", see Marge (disambiguation).
"Hmm..."
―Marge's catchphrase
Marjorie B. Simpson Artwork of Marge by Matt Groening
Character Information
Marjorie "Marge" B.[5] Simpson,[6] (née Bouvier; born March 19[7]), is the happy homemaker and full-time mom of the Simpson family. With her husband Homer, she has three children: Bart, Lisa, and Maggie Simpson. Marge is the moralistic force in her family and often provides a grounding voice in the midst of her family's antics by trying to maintain order in the Simpson household. Aside from her duties at home, Marge flirted briefly with a number of careers ranging from police officer to anti-violence activist.
Biography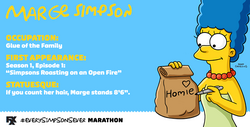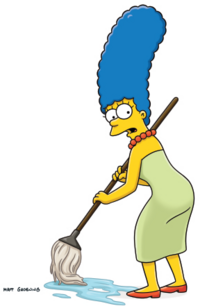 Marge Bouvier was born on March 19, She is the third born child of the Bouvier family. Marge was raised by her parents, Jacqueline and Clancy. She has a pair of sisters, the joyless twins, Patty and Selma, both of whom vocally disapprove of Homer.
Marge went on to attend Springfield High School, and in her final year met Homer Simpson. She was at first wary of Homer, but agreed to go to the prom with him, although she ended up going with Artie Ziff. However, she regrets going with him because he tried to have sex with her afterwards. Artie takes her home and later on she picks up Homer, walking home, in her car. Marge tells him how much she regretted going to the prom with Artie instead of him, causing Homer to somewhat repair the strap of her dress with the corsage he got her. After that decision, her sisters showed their discontent towards him and ultimately think he was just wrong for her. However, Selma does show she's willing to make a sincere attempt to like Homer for Marge's sake, causing him to have a higher opinion of her. Whereas, Patty never attempted to try and is always on Marge's case to leave Homer, thus it's why she and Homer hate each other.
After the two started dating for several years, Marge discovered she was pregnant with Bart, and she and Homer were married in a small wedding chapel across the state line. Lisa was born soon after, and the couple bought their first house.
She used to leave her children playing at Toddlin' Town while spending time with other moms, a group she calls The Cool Moms. They all lost contact to each other, but after many years they re-encountered.[8]
Marge is the mother of the Simpson family, who spends most her time doing housework, caring for Maggie, being supportive of and indulging Lisa and either disciplining Bart or protecting him from Homer's wrath. Marge is the only member of the family who encourages church attendance. She also appears to have significant athletic ability. She is bilingual, being fully fluent in French.
Despite these tendencies Marge had her fair share of wild escapades throughout the show's history. She was once a police officer in Springfield,[9] took therapy for flight fear,[10] was jailed for shoplifting,[11] became a gambling addict,[12] showed alcoholic tendencies,[13] was an unwilling participant in a cross-country police chase,[14] overdosed on steroids,[15] cheated in a cooking competition[16] and developed amnesia.[17]
Character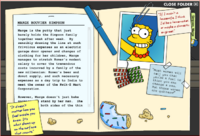 Personality
Marge is a foil to her reckless and impulsive husband. Nevertheless, she is a good wife to Homer and a caring mother to her children. Having high morals and a tendency to be a 'wet blanket' as Homer puts it. She dislikes and tries to avoid taking any sort of risk, can be fearful of new things and set her life to a routine to the point she actually wore a groove into the carpet going from the kitchen to the bedroom and the basement from her constant housework. She tends to consider anything that isn't completely plain to be amazing or exotic, even if they're not all that special. Such as deviled ham opposed to normal ham and buttered noodles opposed to unbuttered noodles. She has also been depicted as a killjoy and attempt to stop things other characters otherwise find fun. She always believes she has a good reason for doing so even if it's only her who has a problem. She once Itchy and Scratchy banned because Maggie injured Homer after imitating a scene from the cartoon.[18] She tried to demolish a burlesque house even though it hurt no one and no one else wanted it destroyed,[19] and she outright says if something isn't to her taste, no one else should be allowed to enjoy it.[20] Homer sums up his wife when he tells her: "If it was up to [Marge], all we'd ever do is work and go to church."
Physical Appearance
Marge usually wears a strapless green dress, red shoes, tall blue hair and an orange pearl necklace. The pearl necklace is a family heirloom and she is seen to have a big drawer full of them.[21] Lisa also wears a pearl necklace, but with white pearls. Doctor Hibbert revealed she has webbed feet.[11] She remarked she used to have a "perfect 26-26-26" figure.[22]
Hair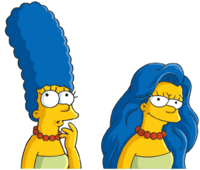 As a teen, Marge had waist length hair she always wore down, but got the idea to wear it in her trademark beehive for senior prom;[23] This is sometimes contradicted by recent flashbacks showing Marge as a child, where she is portrayed with her hair worn tall. Her hair is thick enough for her to keep objects like the family savings in it.[24] Her hair is once shown close to her knees, consistent with the logic a lot of hair would be needed to create her tall beehive.[25] It was revealed by Homer Marge dyes her hair with blue dye #56, stating "She's been gray as a mule since she was seventeen." [26] Because of her unusually large hairstyle, her height is reported to be 8'6", as noted by Apu.[11] Her hair was blue before she met Homer and was brunette at one time due to Marge ironing a piece of her hair for a long time.[27]
Political Views
Politically, Marge generally aligns with the Democratic Party. She once mentions she voted for Jimmy Carter ("twice" according to Lisa),supported the candidacy of their state's progressive governor Mary Bailey, and also claimed to have been extremely depressed when Lyndon B. Johnson died. She, however, appears to be a Conservative Democrat, unlike the Left-Winged Lisa.
Talents
Marge is a very talented painter. When she was a teenager she had an intense crush on Ringo Starr and painted a large number of portraits of him. She also wrote to him, but only received a reply 25 years later. After Homer discovered her old paintings, Lisa encouraged Marge to enroll in an art contest where her portrait of a drunk Homer asleep on the couch won a local art competition. She was hired by Mr. Burns to do a portrait of him. After many attempts, she almost gave up until a belated response from Ringo Starr, (stating she had talent), inspired her to continue. The resulting portrait won even Mr. Burns' praise, a massive feat in itself, and was placed at the Springfield Art Museums Burn's Wing.[28]
Marge is also a very talented cook. She once bought a pretzel business, which flourished with the aid of the mafia.[29] She entered various cooking challenges, although circumstances such as vengeful competitors and overheated ovens cause her to lose and once, sabotage other competitors. Marge says she feeds the family on twelve dollars a week, using sawdust to pad Homer's food.[16] Generally she is regarded as a very good cook, despite the unusual fact she knows of fewer than eight spices and apparently constructs very bad ice cream sundaes. She is especially renowned for her pork chops, Homer's favorite dish. She once worked in Au Naturel, an erotic bakery in Springfield.[30]
Jobs
Marge had many jobs, most of which lasted a short period of time, these include:
Non-canon
| | |
| --- | --- |
| | The contents of this article or section are considered to be non-canon and therefore may not have actually happened or existed. |
Future
In the future, Marge leaves Homer after he blew the family savings on an underwater home. She dates Krusty the Clown. Homer tries to win Marge's love back by beating him up, and is beaten up himself. Marge gets back together with Homer.[38]
Treehouse of Horror
In "Treehouse of Horror VII" segment "The Thing and I", it is known Marge gave birth to Siamese twins: Bart and Hugo. Hugo was thought evil, so he was kept in the house's attic. Hugo attempts to sew him and Bart back together, but he is stopped by Doctor Hibbert. They discover Bart's scar is on the other side, so he is the evil twin after all and is kept in the attic instead, while Hugo has dinner with his family.
The Simpsons: Tapped Out
Marge
This section is transcluded from The Simpsons: Tapped Out characters/Simpsons. To edit it, please edit the transcluded page.

Marge
Image
Cost
Unlock method
Unlock message
7,500
Level 15, Moe's Tavern
Is There an Al Coholic Here Pt. 1
(with Moe)
Permanent Tasks
Task
Time
Reward
Requires
Quest with the task
Animated?
Read 'Chores' Magazine
45s
3, 1
Simpson House
Shop at the Kwik-E-Mart
60m
70, 17
Kwik-E-Mart
Once You've Gone Organic
Drink to Cope With Ennui
60m
105, 26
Cypress Creek Home
Browse the Latest Hammocks
60m
105, 26
Hammock District
Ride the Carousel
2h
110, 27
Boardwalk Carousel
Serve Drinks to Skaters
2h
110, 27
Simpsons' Skating Rink
Dine at the Truffle
2h
110, 27
Gilded Truffle
Truffle Surprise Pt. 4
Moe's New Suit Pt. 2
Get Hair Fixed Up
2h
175, 40
Turn Your Head and Coif
Stock Town Maps
2h
110, 27
Tourist Information Center
See What Those Whacky Robots Are Up To
3h
135, 35
Springfield Robotics Laboratory
Do Some Last Minute Christmas Shopping
3h
135, 35
You Forgot-Me-Nots
Clean the House
3h
135, 35
Simpson House
Time to Clean House
Take Night Classes
4h
175, 45
Springfield University
Practice Ballet
4h
260, 70
Chazz Busby Ballet Academy
Hunt for Deals
4h
260, 70
Circus of Values
Circus of Values Pt. 1
Larp as Commoners
4h
260, 70
Serfsons House
Spy on Kids
4h
260, 70
Giant Ferris Wheel
Drink and Babysit
4h
175, 45
The Boiled Potato
Enjoy a Night Without Kids
4h
175, 45
Resort Hotel
Dance the Night Away
4h
350, 90
Reunion Dance Floor
Homer
Attend Coffee Meetup
4h
175, 45
Jittery Joe's Coffee
Enjoy Mom and Daughter Knitting
4h
520, 140
The Needle Exchange
Lisa
Tour Old Home
4h
175, 45
Lower East Side Homes
Re-Audition for Community Play
4h
260, 70
Springfield Community Theater
Auction Off Wares
4h
175, 45
Springfield Swap Meet
Marvel at Bulk Savings
4h
175, 45
CostMo
Give Unsolicited Advice
4h
175, 45
Marriage Counseling
Get a Perm
4h
175, 45
Curl Up and Dye
Re-read Her Novel
4h
175, 45
Amorous Avarice Pt. 3
Enjoy the View
4h
175, 45
Harpoon Hill
Heaven and Hell Pt. 2
Establish Squatter's Rights
4h
175, 45
Parasite House
Try to Win at Blackjack
4h
175, 45
$ Casino
Stay at the Swelldorado
4h
260, 70
Swelldorado
Overpay for Sex on the Beach
4h
260, 70
Smooches on the Beach
Visit Jake's Unisex Hair Palace
4h
175, 45
Jake's Unisex Hair Palace
Free Band-Aids with Every Cut Pt. 2
Worship Ba'al
4h
175, 45
Pagan Bonfire
Shop for Donuts
4h
260, 70
Donut Store
Watch the Opera... Alone
4h
260, 70
Opera House
Ride Soarin' Over Springfield
4h
520, 140
Soarin' Over Springfield
Lisa
Start Using Her Maiden Name
4h
175, 45
Simpson House
Go for a Romantic Stroll with Homer
5h
400, 100
Homer
Go See How the Mad Half Lives
5h
200, 50
Mad Dr. Hibbert's Manor
Enjoy a Drink at Her Own Hangout
6h
225, 55
The Bendy Elbow
Teach Art Classes
6h
225, 55
Springfield Penitentiary
Deliver Some Tasty Muffins
6h
225, 55
Abandoned Lighthouse
Color Her Hair
8h
275, 70
Jake's Unisex Hair Palace
Take Maggie for a Walk
8h
550, 140
Maggie
Force Homer to Manage Finances
8h
550, 140
First Bank of Springfield
Homer
Take Herself On a Date
8h
420, 105
The Screens
The Screens Pt. 2
Sleep in the Bad Dream House
8h
420, 105
Bad Dream House
Watch a Baby Dance Battle
8h
275, 70
Toy Fortress
Christmas Doesn't Suck Suck Pt. 5
Dance the Señor Burns
8h
420, 105
Chez Guevara
Spend an Evening at Snuggler's Cover
10h
1,050, 270
Snuggler's Cove
Homer
Attend Church
12h
420, 100
First Church of Springfield
Drive the Greyhound Sleigh
12h
840, 200
Greyhound Sleigh
Maggie
Christmas Doesn't Suck Suck Pt. 6
Sit on Homer's Lap
12h
840, 200
Santa Homie
Homer
Paramours of Christmas Past Pt. 6
Enjoy a Night at the Theater
12h
420, 100
Springfield Playhouse
Attend a Clampitheater Show
16h
750, 200
Springfield Clamphitheater
Be Mary
16h
500, 125
Nativity Scene
Compare Houses
24h
600, 150
Temperance's House
Protest... Something
24h
600, 150
Actions Speak Louder Than Quietly Whining
Military Antiques Pt. 5
Costumes
Standalone
Behind the Laughter
Marge Simpson is voiced by Julie Kavner, who became famous for being on the TV series, Rhoda.
The episode "That '90s Show" (season 19, 2007) contradicted much of the established back-story; for example, it was revealed Marge and Homer were childless in the early 1990s although past episodes suggested Bart and Lisa were born in the 1980s.
As with many Simpsons characters, Marge's age changes to serve the story.
Creation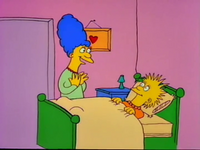 Matt Groening first conceived the Simpson family in the lobby of James L. Brooks' office. He had been called in to pitch a series of animated shorts, and intended to present his Life in Hell series. When he realized animating Life in Hell would require him to rescind publication rights for his life's work, Groening decided to go in another direction. He hurriedly sketched out his version of a dysfunctional family, and named the characters after various members of his own family, with Marge being the name of his mother. Marge made her debut with the rest of the Simpsons clan on 19 April 1987 in the Tracey Ullman short "Good Night".[39]
In The Simpsons Season Four DVD commentary, Matt Groening states the original idea behind Marge's hair was to conceal large rabbit ears. The gag was intended to be revealed in the final episode of the series, but was scrapped early on due to inconsistencies.[40]
Reception
Julie Kavner received a Primetime Emmy Award in 1992 for voicing Marge in the episode "I Married Marge".[41] In 2004, Kavner and Dan Castellaneta (the voice of Homer) won a Young Artist Award for "Most Popular Mom & Dad in a TV Series".[42] For her performance in The Simpsons Movie, Kavner received a nomination for "Best Voice Acting in an Animated Feature" at the 2007 Annie Awards, but lost to Ian Holm in Ratatouille.[43][44] Kavner's emotional performance in the movie got positive reviews and one critic said she "gave what must be the most heartfelt performance ever".[45]
Cultural Influence
Merchandising
Marge is featured in much Simpsons-related merchandise, including T-shirts, baseball caps, stickers, cardboard stand-ups, refrigerator magnets, key rings, buttons, dolls, posters and figurines. She appeared in all of The Simpsons video games, including The Simpsons Game. Besides the television series, Marge regularly appears in issues of Simpsons Comics. Marge also plays a role in The Simpsons Ride, at Universal Studios Florida and Hollywood.
Playboy Shoot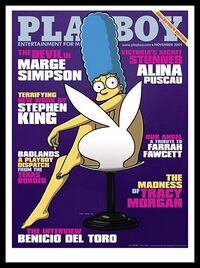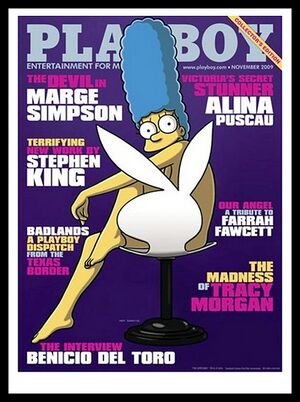 In October 2009, it was announced Marge would be featured on the front cover of the November issue of Playboy. The edition was first published on October 16, 2009. The cover and a three-page picture spread, as well as a story inside entitled The Devil in Marge Simpson, is a celebration of the 20th anniversary of The Simpsons, but is also part of a plan to appeal to younger readers. Chief executive of Playboy Enterprises, Scott Flanders, said the cover and centerfold were "somewhat tongue-in-cheek".
Foreign dubs
Like in the original version in English, Marge is voiced by a female actress in several languages. However, in some dubs like in the Czech, Marge is voiced by a male actor instead of a female.
Trivia
| | |
| --- | --- |
| | Wikisimpsons has a collection of images related to Marge Simpson. |
Marge has hazel-colored eyes.
Bouvier is the surname of Jackie Kennedy-Onassis.
She is left-handed, but she usually uses her right hand for everything to look normal, so she is ambidextrous.
Her shoe size is 13AA.
She has aviophobia (fear of flying) and probably also acrophobia (fear of heights).
As shown in "Kill Gil, Volumes I & II", Marge has trouble saying "no". As shown when she was about 7, Patty and Selma told her to hide their cigarettes in her dollhouse. She said no and they stuffed her into the dollhouse.
Marge also needs to wear glasses.[48]
Marge's middle name is Jacqueline, another nod to Jackie Kennedy-Onassis.
Marge has some sort of crush on Lenny Leonard, referenced in many episodes.
Her hair color is blue dye #56.
Marge originally said she was born on the same day as Randy Quaid, October 1.[49] However, Lisa showed a calendar saying her birthday was on March 19.[7] The latter was proven true at the 2015 San Francisco Comic-Con.
Appearances
References
This article is covered by multiple navigation templates. Click "show" to view.
Simpson family
Main family

Homer Simpson
•

Marge Simpson
•

Bart Simpson
•

Lisa Simpson
•

Maggie Simpson

Santa's Little Helper
•

Snowball II