Marge robots
Wikisimpsons - The Simpsons Wiki
The title of this article is conjectural.
Though the topic is found within The Simpsons universe, a proper name is not available.
Marge robots
Character Information
The Marge robots are a number of robots built by Artie Ziff.
History
[
edit
]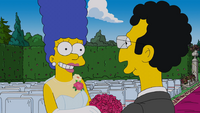 Artie Ziff built a number of robots designed to be like Marge Simpson, who he was in love with. However, each of the robots had flaws and could never be like Marge. One of the robots lacked kindness, another kept trying to kill him and another one had a toaster in the head whose slots weren't big enough to fit a bagel in.
Eventually, Artie got one robot good enough to have a pretend wedding to, which he invited Homer and Marge to, to make Marge jealous. After the wedding, Homer and Marge went to speak to Artie's bride to tell her why Artie married her. They found Artie and his wife together, with Artie crying about it being the lowest point of his life. It was then that Artie told Marge that the wedding was fake, to make Marge realize how perfect he and Marge would be together. Marge told Artie that he could do good with his robots, and Artie decided to use them to build an orphanage. When Artie mentioned making one of them his bride, they all flew way, despite Artie not giving them wings.
Later, Artie was having a meal with four of the Marge robots and asked them if one of them wanted to "party with Artie". Three of the robots went into power save mode and the fourth told Artie that she just didn't like him. The toaster Marge then shot toast at Artie, which Artie considered to be a kiss.
Non-canon
[
edit
]
| | |
| --- | --- |
| | The contents of this article or section are considered to be non-canon and therefore may not have actually happened or existed. |
The Simpsons: Tapped Out
[
edit
]
This section is transcluded from The Simpsons: Tapped Out characters/Love and War. To edit it, please edit the transcluded page.

Permanent Tasks
Task
Time
Reward
Requires
Quest with the task
Animated?
Go Skating
10m
26, 7
Simpsons' Skating Rink
Seek Out Intruders
60m
105, 26
Ziff Wedding Home or
Brown House
Overpay for Sex on the Beach
4h
260, 70
Smooches on the Beach
Stay at the Swelldorado
4h
260, 70
Swelldorado
Try to Win at Blackjack
4h
260, 70
$ Casino
Drink and Babysit
4h
260, 70
The Boiled Potato
Attend Coffee Meetup
4h
260, 70
Jittery Joe's Coffee
Run Diagnostics
4h
260, 70
Dance the Señor Burns
8h
420, 105
Chez Guevara
Look for Homer
8h
420, 105
Perfect the Art of Killing
12h
600, 150
Ziff Wedding Home or
Brown House
Power Down
24h
1,000, 225
Ziff Wedding Home or
Brown House
Behind the Laughter
[
edit
]
Several of the Marge robots look like Terminators from Terminator. Another of the robots resembles Bender from Futurama.
Appearances
[
edit
]