Edna Krabappel
Wikisimpsons - The Simpsons Wiki
"Ha!"
―Edna's catchphrase
Edna Krabappel–Flanders
Character Information

Edna Krabappel–Flanders[3] (née Krabappel) (more commonly known as Mrs. Krabappel or, known by Bart as Mrs. K) was a 4th Grade teacher at Springfield Elementary School. Before Edna was married she lived at 82 Evergreen Terrace[4] and before passing away, she lived at 744 Evergreen Terrace.[5]
Biography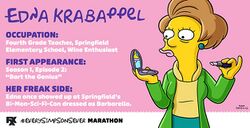 Edna held a Master's from Bryn Mawr College, but is thoroughly jaded, a caricature of the American public school system, as evidenced on the occasion when Lisa steals all the teachers' editions of the textbooks (which contain the answers). Edna genuinely wanted to help people in need but it after years of frustration thanks to the school, and Bart Simpson in particular, this wore away on a somewhat tragic note.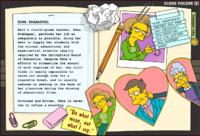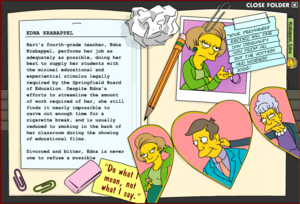 There is some inconsistency about Edna's origins. Though she is said to have come to Springfield to begin teaching,[6] she can be seen running through the background in Springfield High School in when Clancy Wiggum is being videotaped as a hall monitor.[7] Krabappel, like many other teachers at Springfield Elementary School smoked heavily, especially during school hours. It was also once implied that Edna Krabappel drinked heavily, as when Marge arrived at the school to use a restroom and stumbled upon the horrible conditions of the school, she noticed Edna Krabappel's class where Bart felt he had to sleep in class and uttered "stupid teacher," to which Edna was also sleeping in a similar fashion to Bart and uttering "stupid hangover"[8] and once got fired when she became drunk (although the latter instance wasn't her fault, as her drink was spiked by her students in order to help her become laid back.).[4]
Love life
The most recurring theme about Edna is her non-existent love life, and as a result, loneliness and wish for male company. She was divorced; her husband ran off with their marriage counselor. She had talked about her ex living somewhere else exotic, but at one time, a man at the local gas station, while diagnosing a fault with her car, tastes sugar in the gasoline and states "Your ex-husband strikes again! [9]" As a result, she severely missed male company, and it is occasionally implied that she feels her biological clock ticking. She was shown as very sexually aggressive: she tried to pick up both Joey Kramer (Aerosmith's drummer).[10] She had a relationship with Principal Seymour Skinner.[11] She can be seen at a Green Day concert on top of Seymour's shoulders wearing a T-Shirt saying "Not my boyfriend" with an arrow pointing down at Skinner.[12]
It's shown in a flashback that Edna was in a serious relationship with Moe Szyslak when she first moved to Springfield, before meeting Skinner or even becoming a teacher. She was about to run away with him (and possibly get married) but then changed her mind when she met Bart Simpson, a student she believed needed help (it was revealed, however, that Bart was just stalling while Nelson Muntz stole microscopes from the school). At the end of the episode, Moe and Edna are a couple once again, much to Skinner's jealousy when he caught them making out on school property.[6] Indeed, Edna appears to be the object of many a man's desire, as evident by Sideshow Bob's outrage when his romantic date with her is ruined by a spying Bart: "You only get one chance with Edna Krabappel!" One time, during an "edu-tainment" show at Springfield Elementary School, she did a balloon dance wearing nothing but balloons while she pops them to the tune of "Fever," mortifying the audience (especially Bart, who even went as far as to say "kill me" from witnessing it).[13] She often had dinner at The Pimento Grove with her on again - off again dates. At the time of her death, she was married to Ned Flanders.[5]
Edna also had relationships with Groundskeeper Willie,[14][15][16][17] Superintendent Chalmers,[16] Jacques,[18] Homer, Lenny, Carl, Barney, Professor Frink, Drederick Tatum, Krusty, Bumblebee Man, Cletus, Reverend Lovejoy, Arnie Pye, Kent Brockman, Patty,[17] Disco Stu,[4][17] Kirk Van Houten[19] and Sea Captain.[20]
Non-canon
| | |
| --- | --- |
| | The contents of this article or section are considered to be non-canon and therefore may not have actually happened or existed. |
The Simpsons: Tapped Out
This section is transcluded from The Simpsons: Tapped Out characters/School Workers. To edit it, please edit the transcluded page.
Permanent Tasks
Task
Time
Reward
Requires
Quest with the task
Animated?
Smoke Break!
10m
17, 5
A Woman Scorned
Celeb-o-mania, Pt. 4
Go Skating
10m
17, 5
Simpsons' Skating Rink
Relax in Teacher's Lounge
60m
70, 17
Springfield Elementary
It's 2:30 In The Afternoon Somewhere
Dine at the Truffle
2h
110, 27
Gilded Truffle
Principal Plus Interest
Grade Papers
4h
175, 45
Krabappel Apartment
Overpay for Sex on the Beach
4h
260, 70
Smooches on the Beach
Stay at the Swelldorado
4h
260, 70
Swelldorado
Try to Win at Blackjack
4h
175, 45
$ Casino
Drink and Babysit
4h
175, 45
The Boiled Potato
Attend Coffee Meetup
4h
175, 45
Jittery Joe's Coffee
Relive Old Memories
6h
225, 55
Woodstock Casino
Teach Classes
8h
275, 70
Springfield Elementary
A Day In The Life
Another Day in the Life
The Olive Branch Pt. 4
Dance the Señor Burns
8h
420, 105
Chez Guevara
Host Detention
12h
420, 100
Springfield Elementary
Illegitimate Concern Pt. 2
Mad with Funded Power
Another Detention/Tree
Enjoy a Night at the Theater
12h
420, 100
Springfield Playhouse
Go On Strike
24h
600, 150
All Power to the People
Trivia
She had a red marking pen named "Old Red".
Edna Krabappel (before marriage) is featured in a version of Monopoly, called "Edna Krabappoly".[21]
Behind the Laughter
Creation
Her last name is a play on the fruit "crabapple" and it is also a reference to the teacher Miss Crabtree from the 1930s The Little Rascals serials. Part of the original joke of her last name was that nobody ever mispronounced her name and called her "Miss Crabapple",[22] Milhouse was the first to make this joke which had the other students in class amazed and feeling stupid for not noticing it before.[23]
International versions
In France, Edna Krabappel is called Krappabel: "Kra" sounds like "cra-cra" which is used by young children to describe something dirty and "ppabel" sounds exactly like "pas belle" (not pretty). Homer Simpson even calls her "Cracrapoubelle", which has "cra-cra", which infants in France say for "dirty", and "poubelle" which is French for garbage can. In the Québec French version, she retains her original name.
In Italy, she is called Edna Caprapall: Capra in Italian means Goat, and Caprapall recalls the image of a goat.
In Spain, her name is pronounced Edna Carapapel: in Spanish it means paperface. The Latin American version of the show, dubbed in Mexico, keeps "Krabappel" as the US name, though in earlier seasons, when many names and surnames were replaced with Spanish ones, her surname was "Clavados" ("nailings").
Retirement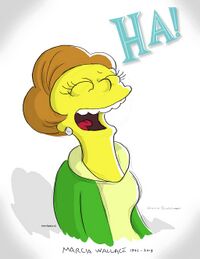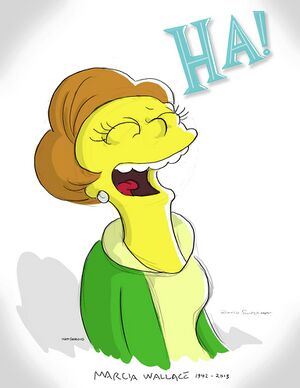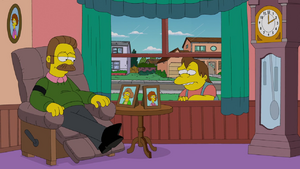 On October 25, 2013, Marcia Wallace died in her home in Los Angeles after a battle with pneumonia. Due to this, Simpsons executive producer and showrunner Al Jean revealed that Edna was not going to be the character that was being killed off in the season 26 premiere but the character will now be retired.[24] The character was retired in the Season 25 episode "The Man Who Grew Too Much" with a special scene at the end of the episode in which she and Ned dance a tango dance, but it is, in fact, a dream by Ned, who wears a black band on his arm and says "I sure do miss that laugh", with a picture of Edna sitting next to another photo of Maude. That's when class bully Nelson pops up with his own laugh "Ha Ha!", to then say: "I miss her too.", confirming that Edna had died sometime prior to the episode via unknown causes.
Foreign dubs
Appearances
Episodes:
Specials:
Adverts:
Simpsons Illustrated:
Simpsons Comics:
Bartman:
Treehouse of Horror:
Bart Simpson:
Futurama Crossover:
Comic Strips:
Holiday Humdinger:
Super Spectacular:
Winter Wingding:
Summer Shindig:
Comic Book Guy: The Comic Book:
Annuals:
One-Shot Wonders:
Video Games:
Books:
References
Factfiles from Simpsons World the Ultimate Episode Guide: Seasons 1-20
Season 14
Rock Stars • Audrey McConnell, Third Grade Teacher • Dr. Velimirovic, Plastic Surgeon • Mitch Hartwell, the Reality Channel Producer • Junior (AKA Frank Grimes, Jr.) • Teacher of the Year Award Nominating Committee • Dexter Colt, Private Eye • The Mugger • Larry H. Lawyer, Jr. • Baby Stink-Breath • Booberella • Sara Sloane, Hollywood Movie Star • Cookie Kwan, Red Coat Realtor • Stark Richdale • Declan Desmond • Julio and Grady • Luke Stetson, Junior Wrangler • Suds McDuff, Spokesdog/Mascot for Duff Beer • Marriage Counselor • Jim Proudfoot • Don Castellaneta