Fox censor
Wikisimpsons - The Simpsons Wiki
| | |
| --- | --- |
| | The contents of this article or section are considered to be non-canon and therefore may not have actually happened or existed. |
"Oh, hi! As the Fox censor, it's my job to protect you from reality."
―The Fox Censor introduces himself
Fox censor
Character Information
The Fox censor was the censor for the FOX network.
History
[
edit
]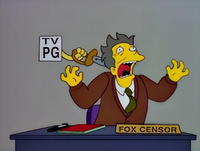 The Fox Censor was first seen hard at work on a script for
The Simpsons
, episode 5F02. As he came to each line that he decided to remove, he said "No" and crossed the offending line out with a large black marker. He found one line to be very funny, but crossed it out anyway, saying, "I think we can do without the crack pipe."
At that point, the Fox censor looked into the screen, introduced himself to the audience, and said it was his job to protect them from reality. He said proudly, "Thanks to my prudent editing, tonight's Simpsons Halloween special has been rated TV-G", and the TV-G rating logo appeared on the screen next to him. The Fox Censor then spoke at some length about the episode's rating, but as he did, a hand holding a knife appeared out of the rating logo and stabbed him, and the logo changed from TV-G to TV-PG. The stabbing continued, with the rating becoming more severe with each blow: TV 14, TV MA, TV 21 and TV 666. When the rating reached TV 666, the Fox Censor was dead and the front of his desk was covered with blood.
Behind the Laughter
[
edit
]
5F02 is the production code for "Treehouse of Horror VIII".
The episode's actual rating was TV PG-V.
The episode's final rating (seen on screen after the censor is stabbed) is "TV 666", a reference to 666 being considered the number of the beast and associated with the Devil by some Christian believers.
The ratings "TV 21" and "TV 666" don't exist in the American television content rating system but were invented for the episode.
Appearances
[
edit
]