Saint Joseph
Wikisimpsons - The Simpsons Wiki
Not to be confused with Saint Joseph, Missouri.
Saint Joseph
Character Information
Saint Joseph is a figure in the Gospels, the husband of the Virgin Mary and the earthly step father of Jesus Christ.
History
[
edit
]
When Homer refused to let her and Joseph into their house when Mary was pregnant, Joseph told Mary to curse them.[1]
Non-canon
[
edit
]
| | |
| --- | --- |
| | The contents of this article or section are considered to be non-canon and therefore may not have actually happened or existed. |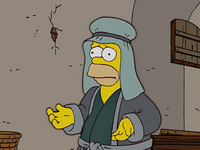 Joseph was visited by his girlfriend, Mary, who told Joseph that she was pregnant, despite not laying with a man. Joseph then says that a pregnant virgin is every man's worst nightmare. The angel Gabriel appeared to the couple and told Mary that she was carrying the son of God, who would grow up to become king of the Jews. Joseph and Mary then went to Bethlehem to have the baby.
At the Bethlehem Inn, the innkeeper told Mary and Joseph that he had plenty of rooms available with brand new carpeting. However, when Mary's water broke, the innkeeper forced them to stay in the barn. Mary successfully gave birth to the baby, and the three wise men, along with the two shepherds arrived to see Jesus. Joseph was upset because he wasn't the father or a wise man, so he went to drink some wine to make himself feel better. However, Jesus turned the wine into water, which prompted Joseph to attempt to strangle the baby Jesus, before Gabriel stopped him from doing so.
When Jesus kept crying, Mary gave him to Joseph to look after. Joseph entertained Jesus by hurting himself and one of the wise men, using physical comedy. When Jesus finally fell asleep, King Herod and his soldiers arrived at the barn that they were staying in. The family escaped from the barn and tricked the soldiers by putting Jesus' halo on a duck. On top of a hill, Joseph cut down a pine tree, and as it rolled down, trapping the soldiers within the tree as it went. The soldiers, along with Herod, ended up arranged like ornaments on the tree, with the duck, still wearing the halo, standing on top of the tree. Mary then called it a Christmas tree.[2]
Appearances
[
edit
]
References
[
edit
]
External links
[
edit
]