Lyla
Wikisimpsons - The Simpsons Wiki
Lyla was the cousin and lover of Mr. Burns.
History
[
edit
]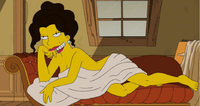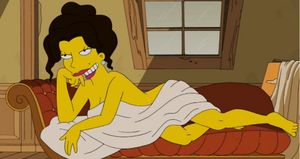 When Burns was in Paris, he met Lyla, who was his cousin. They fell in love with each other and Burns proposed to her after drawing a picture of her. She said no as he was too evil, leaving Mr. Burns heartbroken.
Years later, Mr. Burns started reminiscing about Lyla and asked Dexter Colt to find out about her. He found out that Lyla was still alive but was now a Buddhist nun. Burns went to meet up with her at The Peak Inn and Lyla told Burns that she was saving herself for him. Mr. Burns went into the bathroom to get ready but when he came out, he found that Lyla was dead. He tried to give her the kiss of life but she then turned into dust at his kiss.
Non-canon
[
edit
]
| | |
| --- | --- |
| | The contents of this article or section are considered to be non-canon and therefore may not have actually happened or existed. |
The Simpsons: Tapped Out
[
edit
]
This section is transcluded from The Simpsons: Tapped Out characters/Winter 2017. To edit it, please edit the transcluded page.

Lyla
Image
Cost
Unlock method
Unlock message
Yearbook
140
The Invasion Before Christmas and A Simpsons Christmas Special
Premium, The Peak Inn

30
60
Thanksgiving 2018, All American Auction, Blargsgiving, Northward Bound and The Atom Smasher
Premium, The Peak Inn (Women Mystery Box)
60
Abe's in Toyland
Premium, The Peak Inn (Winter Wonderland Mystery Box)
1
Clash of Creeds: Christmas Royale
Santa's Wonderland, The Peak Inn
120
Springfield Enlightened
Premium, The Peak Inn
80
Northward Bound and The Atom Smasher
Premium, The Peak Inn (Character Mystery Box)
1
Holiday Whodunnit
Last Minute Gifts, The Peak Inn
1
A Christmas Peril
A Christmas Peril Mystery Box, The Peak Inn
Appearances
[
edit
]