Jonathan Frink, Sr.
Wikisimpsons - The Simpsons Wiki
Jonathan "John" I.Q. Neidelbaum Frink, Sr. is the father of Prof. Frink, with whom he never really got along well. Frink Jr's mother said they got along like positrons and antineutrinos.
History
[
edit
]
A picture of him hangs in Professor Frink's house.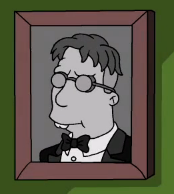 Non-canon
[
edit
]
| | |
| --- | --- |
| | The contents of this article or section are considered to be non-canon and therefore may not have actually happened or existed. |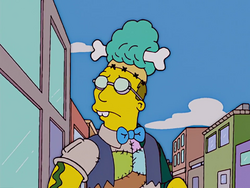 After Frink Jr. wins the Nobel Prize (for devising a hammer with a screwdriver on the other end of it), he expresses the wish that his father was able to see him win. He explains that his father always saw him as a disappointment, and describes his father as a he-man scientist who worked on the atom bomb by day, slept with Marilyn Monroe by night, and sold secrets to the Russians at lunch. He was last seen alive just before he went on a fishing trip. Frink Jr. didn't want to go on this trip because he gets sick ("clean but nauseous") taking a shower. His father, disgusted, left without him. Frink reveals that his father was bitten by a shark while testing a blood-based suntan lotion.
Frink brings his dad back to life, explains that his missing organs have been replaced with machines, and that he has no penis "in the traditional sense". Frink Sr., believing he isn't really alive, goes on an organ theft rampage. Lisa convinces him to get rid of all the stolen organs and go to Stockholm, to see his son win the Nobel prize. After he finishes his speech, he walks around stealing peoples' brains in an effort to gain knowledge. Frink Jr. stops him by kicking him in the crotch. Soon Frink dies again, but Frink Jr. puts his soul in "the soul box".
A different looking Frink, Sr. was seen when Professor Farnsworth was placed in the retirement home[2].
The Simpsons: Tapped Out
[
edit
]
This section is transcluded from The Simpsons: Tapped Out characters/Treehouse of Horror XXVII. To edit it, please edit the transcluded page.

Permanent Tasks
Task
Time
Reward
Requires
Quest with the task
Animated?
Dig Up New Upgrades
60m
70, 17
Show Off New Upgrades
4h
175, 45
Overpay for Sex on the Beach
4h
260, 70
Smooches on the Beach
Stay at the Swelldorado
4h
260, 70
Swelldorado
Try to Win at Blackjack
4h
175, 45
$ Casino
Drink and Babysit
4h
175, 45
The Boiled Potato
Perform He-Man Science
8h
275, 70
Frink's Lab
or
Brown House
Dance the Señor Burns
8h
420, 105
Chez Guevara
Stock Up on Antiseptics
12h
420, 100
Kwik-E-Mart
Calculate Pi to 314159 Places
24h
600, 150
Frink's Lab
or
Brown House
Behind the Laughter
[
edit
]
Appearances
[
edit
]
References
[
edit
]
---