C. W. McAllister
Wikisimpsons - The Simpsons Wiki
"I have mountaineered to the utmost, but the peak is unclimbable. Worse still, that treacherous skunk Abe Simpson stole my oxygen and tried to eat my left arm. Tell my beloved wife that my last thoughts were of her... blinding and torturing Abe Simpson. Cheerio."
―C. W. McAllister's last journal entry
C.W. McAllister
Character Information
C. W. McAllister was a man who tried to climb The Murderhorn with Abraham Simpson.
History
[
edit
]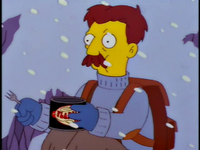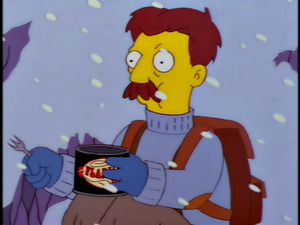 They almost got to the top when they ran out of supplies. What Abe said in his story was that McAllister took his supplies and pushed him off the mountain. This was, however, a lie. On the second to last peak, Abe took a bite out of his arm and stole his oxygen as he froze to death. His last thoughts were of his wife blinding and torturing Abe Simpson.
When Homer made it to the second to last peak of The Murderhorn, he found McAllister's frozen body. He used it to ride down the mountain to safety on.
Appearances
[
edit
]