Bart's Not Dead/Gags
Wikisimpsons - The Simpsons Wiki
Title screen gag
[
edit
]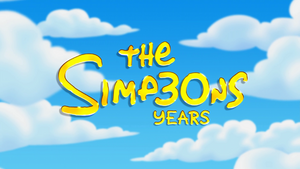 The Simpsons logo shows up only for the S and O to transform into 30 and the text Years to appear beneath to form "30 years".
Couch gag
[
edit
]
"Bart's Not Dead" couch gag
Couch Gag Information
A series of clips from each season is shown (for a full list, see the references page). An alien family is then seen sitting on a couch in the Star System HD 102365 - 30 Light Years Away from Earth. The adult male alien asks why Homer sounds like Walter Matthau.
Appearances
[
edit
]
Characters
[
edit
]
Locations
[
edit
]
Vehicles
[
edit
]