Obeseus the Wide
Wikisimpsons - The Simpsons Wiki
"Over the next ten years, senator Obeseus' power grew vastly, as did his toga size."
Obeseus the Wide
Character Information
Obeseus the Wide was a senator in Rome.
History
[
edit
]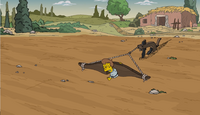 When Obeseus was a child, he was made to plow the fields by his father, Abus, since they didn't own an ox. When Obeseus was a young adult, he was sold to Gordus Antonius as a slave, with Abus using the money to finally buy an ox.
Obeseus was taken to Rome where he made friends with his fellow slaves Lennus, Carlum, Modus and Barnabas. The five of them were then made into gladiators to fight in the Colosseum. During Obeseus' first match, which was against Gordus Antonius' prized gladiator, Wolfus Rein, Obeseus used his experiences with plowing a field to fight back and won the fight, killing Wolfus. This caught the eye of Gordus Antonius' daughter, Marjora. Gordus Antonius wanted to put Obeseus to death for killing his prized gladiator, but Marjora convinced him to let Obeseus live as the crowd loved him. Obeseus then fought and won several more fights before he declared his love to Marjora.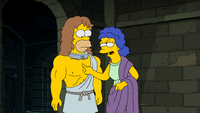 In the prison cells, Obeseus and his friends made a pact that if one of them ever got free, they would do everything they could to get the others free. After they made the pact, Obeseus went to retire for the night, but Marjora was in his room. Marjora and Obeseus then had sex, which led to Marjora getting pregnant. When Gordus Antonius confronted all the slaves about his daughter's pregnancy, the slaves all tried to cover for Obeseus, but Obeseus admitted that he loved Marjora. Gordus Antonius then freed Obeseus and had him get married to Marjora. Gordus Antonius then gave Obeseus the deed to a laundry business and his friends to be his slaves. As Obeseus was about to free his friends, Marjora convinced him not to as it would mean more work for him. Obeseus then told his friends that he would free them once his business had gotten going.
Years passed and Obeseus and Marjora had two children; Bartigula and Lisandra. The laundry business wasn't doing well as ammonia was used to clean clothes, and Obeseus and his slaves couldn't produce enough urine to clean everyone's clothes. Obeseus' slaves then came up with an idea to put jugs outside of taverns to collect other peoples' pee. This led to an increase in business which let Obeseus and Marjora move into a nicer house in a nicer part of town.
In the new house, Obeseus' friends once again asked him to free them, since they gave him the idea that made him rich. However, Obeseus refused to do so once again, making excuses. Later, when attending a goat sacrifice, Obeseus was disappointed as he didn't get to see it. Marjora then told Obeseus that they saved the best seats for senators and Marjora told Obeseus that he should become a senator. When Obeseus asked Emperor Quimbus to become a senator, he was laughed out of the room. Senator Montimus, the politically adopted son of the emperor, overheard Obeseus and offered to make him a senator if Obeseus killed the emperor. Obeseus accepted this and killed Emperor Quimbus, which made Montimus the new emperor. Obeseus then became a senator.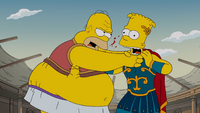 Obeseus and Marjora became well respected in the later years, and Obeseus became fatter as a result of his lavish lifestyle. During this time, Bartigula became cruel and would torture people. Obeseus still refused to free his friends. When Marjora threw a party, which the emperor didn't attend, Marjora asked Obeseus to kill the emperor so that he could become the next emperor. Obeseus refused to do so, being happy with his life as it was. Marjora then attempted to poison the emperor, but his wine taster died instead. In his death, the wine taster knocked a pillar onto the emperor, killing him. Marjora then suggested that Bartigula become the new emperor, to Obeseus' shock.
Bartigula became the emperor and started a reign of terror. When a war against Poseidon wasn't going well, he dissolved the senate and then declared himself a god. Obeseus spoke out against Bartigula and was imprisoned, bringing his slaves with him as he was allowed to take some belongings. In the cell, Obeseus apologized to his friends for how he treated them then declared them free. Lisandra then opened the cell and let them go, with Obeseus deciding to confront Bartigula. Bartigula and Obeseus fought until Bartigula cuts Obeseus' throat, with Obeseus strangling Bartigula to death with his final breaths. Upon seeing this, Marjora drank poison, leaving Lisandra as the only member of the family left alive
In the present day, a headless statue of Obeseus is kept in the Springfield History Museum.
Personality
[
edit
]
Obeseus started off with a decent morale compass, wanting to free his friends from slavery. However, his wife Marjora became a bad influence on him, convincing him to keep his friends as slaves. Obeseus often seemed happy with where he was in life, whilst Marjora often wanted more and pushed Obeseus to get more from life. Obeseus was often scared of his wife getting angry, only going through with killing Emperor Quimbus to become a senator as he knew Marjora would be angry if he didn't.
Eventually, Obeseus decided that he had enough and refused to go through with what his wife wanted. Upon being imprisoned by his son, Obeseus realized what he had done wrong with his life and attempted to put it right by stopping his son from hurting more people.
Appearances
[
edit
]