Gautama Buddha
Wikisimpsons - The Simpsons Wiki
Gautama Buddha was a sage who Buddhism formed around.
History
[
edit
]
This article or section is incomplete.


Please improve the article, or discuss the issue on the talk page.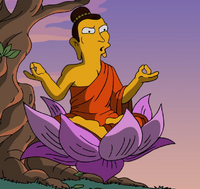 When Sideshow Bob was having dinner at the Simpsons house, he told Homer that he was forgetting the first two noble truths of the Buddha.[2]
When Homer thought he was going to die, he prayed to Jesus, Allah and Buddha.[3]
When Homer was baby-proofing Apu's apartment, he put giant foam fingers on all the hands of the Shiva statue and told Apu and Manjula that there will be no more Shiva-related pokings and that they should buy a Buddha statue instead.[4]
When Lisa was looking for a new religion, she went to the Springfield Buddhist Temple where she learned about Buddha's teachings. When Lenny asked who Buddha was, Richard Gere told Lenny that it was a good thing Buddha taught freedom from desire, as he had a desire to kick Lenny's ass. Richard Gere then gave Lisa a pamphlet of Buddha's teachings.[5]
When Bart asked Lisa what stopped the rain, Lisa shrugged and suggested it was Buddha. Up in Heaven, Buddha told God and Colonel Sanders that the people of Springfield had suffered enough.[6]
He was among the people Lisa prayed to after she was caught in a volcano eruption. He was then later seen in heaven alongside Jesus and SpongeBob SquarePants, whom Lisa had also prayed to.[7]
When Lisa mentioned that she thought that everybody would be happier without presents at Christmas, Homer imagined Buddha driving a sports car telling him that attachment to material goods kills the soul. The police then pulled Buddha over and arrested him and Buddha told the police that he wasn't going to jail again and that he had their badge numbers.[8]
To get Ling Bouvier back to Selma, the Simpson family disguised Homer as a gold Buddha statue to get him into the orphanage.[9]
When Todd asked Ned if Buddha will be in heaven he answered him no.[10]
Lisa tried to convert Todd to Buddhism, saying that Buddha managed to lose weight and liked both yoga and Yoda. Todd told Lisa that Buddha was no god. Later, Lisa was talking to Buddha, who was annoyed that Lisa couldn't convert Todd. Lisa then brought him Ralph, saying that she converted him. Buddha asked Lisa what he was going to do with Ralph Wiggum when Ralph said "everything is nothing", which blew Buddha's mind.[1]
Non-canon
[
edit
]
| | |
| --- | --- |
| | The contents of this article or section are considered to be non-canon and therefore may not have actually happened or existed. |
Gautama Buddha appeared in Heaven where he asked God and St. Peter to consider allowing Buddhists into Heaven. He pointed out Lisa Simpson as an example of a good person they'd want in Heaven.[11]
The Simpsons: Tapped Out
[
edit
]
This section is transcluded from The Simpsons: Tapped Out characters/The B.S. League. To edit it, please edit the transcluded page.

Permanent Tasks
| Task | Time | Reward | Requires | Quest with the task | Animated? |
| --- | --- | --- | --- | --- | --- |
| Go Skating | 10m | 17, 5 | Simpsons' Skating Rink | | |
| Create Koans | 60m | 70, 17 | Brown House | | |
| Follow the Middle Path | 4h | 175, 45 | Brown House | | |
| Invoke the B.S. | 4h | 175, 45 | Rigellian Christmas Spaceship | | |
| Overpay for Sex on the Beach | 4h | 260, 70 | Smooches on the Beach | | |
| Stay at the Swelldorado | 4h | 260, 70 | Swelldorado | | |
| Try to Win at Blackjack | 4h | 175, 45 | $ Casino | | |
| Drink and Babysit | 4h | 175, 45 | The Boiled Potato | | |
| Attend Parenting Seminars | 4h | 260, 70 | Universal Panacea | | |
| Discard Material Possessions | 8h | 275, 70 | | Sutrageous Fortune Pt. 5 | |
| Dance the Señor Burns | 8h | 420, 105 | Chez Guevara | | |
| Offer Humans Wise Riddles | 12h | 420, 100 | Brown House | | |
| Become One With the Universe | 24h | 600, 150 | | | |
Appearances
[
edit
]
References
[
edit
]
External links
[
edit
]
| | |
| --- | --- |
| | This article about a Simpsons character is a stub. You can help Wikisimpsons by embiggening it. |