Count Burns
Wikisimpsons - The Simpsons Wiki
| | |
| --- | --- |
| | The contents of this article or section are considered to be non-canon and therefore may not have actually happened or existed. |
"Ah, precious blood!"
―Count Burns
Count Burns was the head-vampire who resides in his medieval castle in Pennsylvania.
History
[
edit
]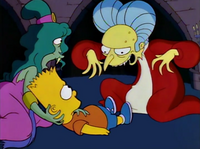 A news report by Kent Brockman spoke about a local peasant who had been found dead, drained of his blood, and a black cape with "Dracula" written on it. This case had police baffled and they blamed Mummies. After this report, Brockman went on to talk about how Mr. Burns had bought the Springfield Blood Bank. The report then cut to Mr. Burns, who has blood tricking down his mouth. Burns then invited the Simpson family to his country house, which was actually a castle, in Pennsylvania.
Upon entering the castle, Count Burns appeared in a cloud of smoke and welcomed the Simpsons. Lisa asked Homer if he found anything strange about how Burns looked, and Homer said that Burns' hair looked queer, which Burns overheard. The family then sat down to dinner with Count Burns, being given glasses of blood to drink. Lisa spilled her glass over herself and Bart so they had an excuse to go and explore and they found Count Burns' secret vampire room. The kids went down into it and confirmed that Burns was a vampire as he had a book called Yes, I Am a Vampire, with the foreword by Steve Allen. Vampires rose out of their coffins and approached Bart and Lisa and they tried to escape up the stairs. However, Bart found a switch that turned the stairs into a "Super Fun Happy Slide" and pulled it, sliding down to the basement again. he was then captured by Count Burns.
Lisa got back to the family and told them that Bart had been captured by Burns but Burns walked into the room with Bart, having turned Bart into a vampire. The rest of the family thought Bart was fine and they went home again. When the rest of the family realized Bart was a vampire, they went back to Count Burns' castle to kill him, as killing the head vampire returns the other vampires back to normal. After Homer stabbed Count Burns in the crotch, he stabs Burns through the heart, killing him. The family then went home, only for Lisa to find out that everyone else in the family was a vampire, with Marge being the head vampire.[1]
The Simpsons: Tapped Out
[
edit
]
This section is transcluded from The Simpsons: Tapped Out characters/Costumes. To edit it, please edit the transcluded page.

Permanent Tasks
| Task | Time | Reward | Requires | Quest with the task | Animated? |
| --- | --- | --- | --- | --- | --- |
| Stalk Victims | 60m | 105, 26 | | Count Burns Pt. 2 | |
| Drink Blood | 4h | 260, 70 | Brown House | Count Burns Pt. 4 | |
| Go in for Questioning | 8h | 420, 105 | Police Station | | |
| Take an Evening "Stroll" | 12h | 600, 150 | | | |
| Rest in Peace | 24h | 1,000, 225 | Burns Coffin | | |
Behind the Laughter
[
edit
]
Count Burns' appearance is based on that of Gary Oldman's portrayal of Count Dracula in the 1992 horror-romance film, Bram Stoker's Dracula, which was directed by Francis Ford Coppola.
In a short lived series of 18" foam figures, the Count Burns design was used rather than regular Burns.
Despite his Halloween episode not being featured, Count Burns appears on the title menu and back cover of the DVD/VHS "The Simpsons Treehouse of Horror".
Appearances
[
edit
]
References
[
edit
]