Springfield Heights Institute of Technology
Wikisimpsons - The Simpsons Wiki
Springfield Heights Institute of Technology
Location Information

Springfield Heights Institute of Technology is a further education institute in the Springfield Heights district of Springfield. It has a focus on science, technology and engineering. Jonathan Frink is a professor here. He once taught Apu, who came to the institute after graduating from the Calcutta Technical Institute.
Non-canon
[
edit
]
| | |
| --- | --- |
| | The contents of this article or section are considered to be non-canon and therefore may not have actually happened or existed. |
The Simpsons: Tapped Out
[
edit
]
This section is transcluded from The Simpsons: Tapped Out buildings/Heights crafting buildings. To edit it, please edit the transcluded page.

Institute of Technology
Image
Cost
Build time
Reward
Sell price
Conformity increase
Availability
Unique?
Dimensions -

D

x

W

FREE
N/A
N/A
Obedience +10
Springfield Heights
10 x 12



Jobs

Character
Job
Time
Costs
Reward
Professor Frink
Work on Frinkiac 8
8m
2 + 1
2, 5
Apu
Work on New Thesis
8m
2 + 1
1, 3
Milhouse
Consumer Test Products
8m
2 + 1
1, 3
Mayor Quimby
'Certify' Voting Machines
8m
2 + 1
1, 3
Ralph
Be Subject of a Study
8m
2 + 1
1, 3
Groundskeeper Willie
Erase Groundbreaking Equations
8m
2 + 1
1, 3
Moleman
Apply for Cyber Eye-Implants
8h
24 + 12
40, 120
Database
Test Graphing Calculator Watch
8h
24 + 12
20, 60
Artie Ziff
Try to Sell Old Patents
8h
24 + 12
20, 60
Appearances
[
edit
]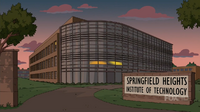 | | |
| --- | --- |
| | This article relating to a Simpsons location is a stub. You can help Wikisimpsons by embiggening it. |