Jay Nahasapeemapetilon
Wikisimpsons - The Simpsons Wiki
<!–-INFOLINKS_ON-–>
Jamshed "Jay" Nahasapeemapetilon is Apu's nephew and Sanjay Nahasapeemapetilon's son.
History
[
edit
]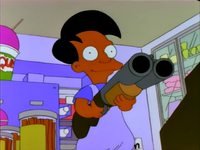 Apu asked him to watch over the Kwik-E-Mart while he was away, Jamshed subsequently pulled out a shotgun to scare shoplifters Jimbo, Dolph and Kearney.[2]
Jamshed and his sister joined the student strike at Springfield Elementary School.[3]
Jamshed aged up and went to college in his late teens. When he got back to Springfield, he reveals that he would rather go by the much shorter and less Indian name, Jay. He became hip and millennial and took over from Sanjay as the majority owner of the Kwik-E-Mart, turning it into the Quick & Fresh.[1]
Non-canon
[
edit
]
| | |
| --- | --- |
| | The contents of this article or section are considered to be non-canon and therefore may not have actually happened or existed. |
The Simpsons: Tapped Out
[
edit
]
This section is transcluded from The Simpsons: Tapped Out characters/Apu's Family. To edit it, please edit the transcluded page.

Behind the Laughter
[
edit
]
Jamshed has aged the most out of all characters in The Simpsons, aging from a toddler to someone in his late teens.
Appearances
[
edit
]
References
[
edit
]
<!–-INFOLINKS_OFF-–>
---