Model U.N. Club
Wikisimpsons - The Simpsons Wiki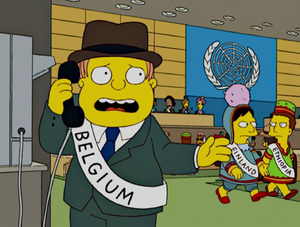 The Model U.N. (United Nations) Club is a small group of Springfield Elementary School students. It was formed by Lisa Simpson and seconded by Martin Prince.
History
[
edit
]
On the way to a weekend U.N. Trip, the school bus crashes and the kids are stranded on an island in the middle of nowhere, eventually saved by Moe.[1]
Lisa once skipped a meeting of the club, in which she planned to threaten a rice tariff, to run away with Juliet Hobbes. This left the club in chaos, with Martin frantically calling the Simpson residence in the hope of finding her, due to being two minutes away from a role call vote on a non-binding resolution, with Azerbaijan being absent.[2]
Procedure
[
edit
]
According to Homer Simpson, it is unlikely that a threat such as Lisa's for Azerbaijan would go through on a Friday, because that is usually the day where they discuss committee assignments and procedural rules.[2]
Members
[
edit
]
Appearances
[
edit
]
References
[
edit
]