At Long Last Leave/Gags
Wikisimpsons - The Simpsons Wiki
Chalkboard gag
[
edit
]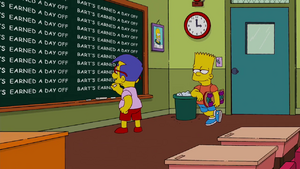 Bart's earned a day off
Instead of Bart writing on the chalkboard, Milhouse Van Houten writes instead. This is the first time that a different character than Bart has written on the chalkboard for the opening sequence.
Couch gag
[
edit
]
500th episode couch gag
Couch Gag Information
A few earlier couch gags appear at normal speed, then screenshots of the previous couch gags appear, right up until the gag from "The Daughter Also Rises". Afterwards, the Simpsons run to the couch, look around, and then the screen zooms out to reveal the previous couch gags in a mosaic saying "500". The screen then shatters, and shows Homer strangling Bart (looking similar to "Angry Dad: The Movie", from Season 22).
Appearances
[
edit
]
This couch gag features the appearance of nearly everybody who has appeared in previous couch gags.
This article or section is incomplete.


Please improve the article, or discuss the issue on the talk page.