Adolf Hitler
Wikisimpsons - The Simpsons Wiki
"Well, one in two million people has what we call the evil gene. Hitler had it."
Adolf Hitler
Character Information

Adolf Hitler was a German politician, Chancellor of Germany from 1933 to 1945, and the leader of the Nazi Party.
History
[
edit
]
Early history
[
edit
]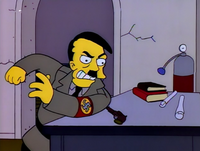 In 1927, Charles Lindbergh threw Mr. Burns' childhood teddy bear Bobo into a crowd where it was grabbed by Hitler. In 1936, Hitler was at the 1936 Berlin Summer Olympics where Abraham Simpson threw a javelin, narrowly missing Hitler and killing an assassin.[1] Also at the 1935 Olympics, Hitler got annoyed when Jesse Owens outran his zeppelin.[2] In 1945, when Hitler lost the Second World War he blamed the loss on Bobo and threw the bear away.[3]
Abraham Simpson once came close to assassinating Hitler, but failed because of Mr. Burns hitting his rifle barrel with a tennis ball (or racket) and spoiling his aim.[4]
Later history
[
edit
]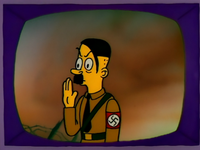 Hitler later attended the 1968 Mexico City Summer Olympics where he got annoyed and threw his hat on the floor.[2] When Barney congratulated a worker who had to check which Duff bottles were not fit for consumption, several disturbing bottles passed by during their chat, including one with the head of Hitler.[5] However, this may not have been Hitler as he was later seen alive when Bart made phone calls to countries below the equator. Bart coincidentally phoned Hitler, who was apparently spending his old age days somewhere in South America (presumably Argentina). Hitler missed the call (failing to get to his car phone on time) and was angry as a result. A man in lederhosen then bicycled by and gave Hitler the Nazi salute.[6]
Fictional appearances
[
edit
]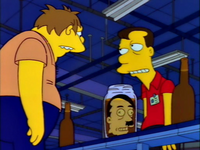 A cartoon from the 1940s is shown where Itchy and Scratchy beat, kick and decapitate him. Then Itchy chops off Scratchy's head and Franklin D. Roosevelt appears, kicking both Hitler and Scratchy in the butt.[7]
In a story told by Abraham Simpson, Hitler was with Benito Mussolini and Hermann Göring watching Abraham when he was posing as a German cabaret singer.[8]
A cut-out of him was seen in the Springfield Elementary School library, holding Mein Kampf and the speech bubble saying "Before I was a Nazi leader, I was a Nazi reader".[9]
Hitler appeared in an issue of Plastic Man where Plastic Man was tickling him with a feather.[10]
He is also seen in an advert about a World War II DVD in color and he is seen flying a kite in it.[11]
The World at War TV show showed him and his wife Eva Braun.[12]
Hitler was also in The Itchy and Scratchy Show episode "The Cat's Speech". He rode over Scratchy in a steamroller.[13]
He appeared in the Christmas film Hitler's Christmas in Hell.[14]
Mentions
[
edit
]
When the Simpson family watched a quiz show on TV the host asked what German ruler is the capital of North Dakota named after. Homer answered Hitler, but Patty and Selma said Bismarck, which was right. The contestant on the quiz show also answered right. Bart was surprised at Homer's answer.[15]
When Homer talked about "dog Hell" he said that Hitler's dog would be there.[16]
Dr. Hibbert mentions that one in two million people have the "evil gene" and Hitler had it.[17] When Homer takes the blame for smoking while it was actually Patty and Selma's cigarettes. Patty and Selma's superior shows her anger to Homer by calling him "worse than Hitler."[18] Hitler's car is destroyed by Bart during a carnival. Nelson Muntz punches Bart and asks him: "That was Hitler's car. What did he ever do to you?"[19] Homer sings a song entitled "Hitler Is a Jerk".[20] When Homer wakes up and thinks he's traveled back in time to 1939 he says "1939! Oh, my God, I've gone back in time! I've got to warn everybody about Hitler -- and get to the ice cream store!".[21] Homer thought that Lisa dreamed about Hitler while she was unconscious.[22] When Homer asked Moe to describe a $100 bill that the family found, which Moe said he lost, Moe said that Hitler's face was on it.[23]
Non-canon
[
edit
]
| | |
| --- | --- |
| | The contents of this article or section are considered to be non-canon and therefore may not have actually happened or existed. |
In Lisa's dream, Hitler is seen in a movie theater which is blown up by Marge.[24]
Krusty as a circus clown said "Seriously folks, I really think we should stop this Hitler guy." and everyone laughed at him.[25]
Troy McClure starred in the off-Broadway play Hitler Doesn't Live Here Anymore as Adolf.[26]
Appearances
[
edit
]
References
[
edit
]
External links
[
edit
]