Snow White
Wikisimpsons - The Simpsons Wiki
Snow White
Character Information

Snow White is a fictional character in a fairytale.
History
[
edit
]
Dexter Colt "took care" of Nelson Muntz's picture with Snow White until he found something out about Lisa. When Dexter gave back the picture to Nelson he pointed out to him that she is an actress. Nelson told him that he preferred illusion to despair.[1]
Gina Vendetti pushed Snow White off the parapet in Disneyland, Anaheim, California. She showed Bart a picture of Snow White falling from the tower. She was said to have lived.[2]
Fiction
[
edit
]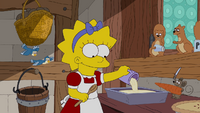 In a story told by Lisa Simpson, Snow White was played by Lisa.
The Evil Queen asked her HDTV who the "fairest one of all" was and found out that it was Snow White. She then asked Huntsman Willie to kill Snow White and put her heart in a box, and the rest of her body in another box. Snow White was then seen at home cooking and cleaning with her animal friends. Huntsman Willie then entered the house to kill her, but couldn't do it. He then told Snow White to run to find the dwarfs to hide with.
Snow White made it to the dwarfs house and was tired from the walk there, so she decided to sleep. When the dwarfs returned home from work, Crabby wanted to wake Snow White up with a kiss, but she woke up before that could happen. Snow White then lived with the dwarfs and helped them around the house. One day, the Evil Queen managed to find the dwarfs house and tried to get Snow White to eat a poison apple. Snow White wanted to have a different apple so the Evil Queen had to grab the apple and force Snow White to eat it. Snow White then fell into a sleep coma.
Snow White's body was placed in a glass box atop a hill where the dwarfs watched over her until she woke up. This eventually happened when a female doctor showed up and helped her, because a woman shouldn't have to depend on a man. After this, Snow White was fine, but couldn't engage in strenuous activities like handball.[3]
Non-canon
[
edit
]
| | |
| --- | --- |
| | The contents of this article or section are considered to be non-canon and therefore may not have actually happened or existed. |
Snow White was seen at Moe's Tavern for the Disney+ two year anniversary party. When Lisa fell over, Cinderella and Snow White picked her up and gave her a princess dress.[4]
Behind the Laughter
[
edit
]
Snow White is based on the protagonist from Snow White and the Seven Dwarfs.
Appearances
[
edit
]
References
[
edit
]
External links
[
edit
]