Satan's Path
Wikisimpsons - The Simpsons Wiki
| | |
| --- | --- |
| | The contents of this article or section are considered to be non-canon and therefore may not have actually happened or existed. |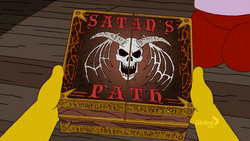 Satan's Path is a board game. When the first player roles the dice, other board games become real. You have to get to the finish line to end the game.
History
[
edit
]
Bart and Milhouse played the game. All of the board games came to life and a Funnopoly train crashed through the house. Lisa told them that they had to get to the finish line to end the game. Along the way, Milhouse drowned after their Battleboat is sunk. Bart gets to the end and has to trap the mouse in Mouse Catch. However, the device doesn't work and Bart kicks it a couple of times until it drops and the mouse is caught, ending the game.
Games used
[
edit
]
The games that became real are:
Games in the Simpsons attic
[
edit
]
Ravenous Ravenous Rhinos
Mouse Catch
Battleboat
Funopoly
Crate of Apes
Yahtzu
The Simpsons: Tapped Out
[
edit
]
This section is transcluded from The Simpsons: Tapped Out decorations/Halloween decorations. To edit it, please edit the transcluded page.

Satan's Path
Image
Cost
Reward
Sell price
Conformity increase
Availability
Unique?
Dimensions -

D

x

W

FREE
N/A
Indolence +10
Treehouse of Horror XXX
A Mother Scorn Pt. 1
2 x 4
30
Treehouse of Horror XXXI and Treehouse of Horror XXXIII
Premium
Internal Name
Tiles
ID
SatansPath
Grass, Pavement, Boardwalk Section, Ornate Pier Section, Dirt, Krustyland Road
225502
Behind the Laughter
[
edit
]
Satan's Path is a parody of the board game in the film Jumanji.
Appearances
[
edit
]