Springfield Demolition Derby
Wikisimpsons - The Simpsons Wiki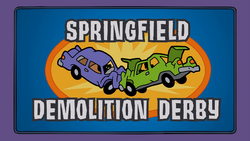 The Springfield Demolition Derby is a demolition derby, held in the Springfield Demolition Derby Grounds.
History
[
edit
]
Homer sold his car to Gene "No Helmet" Dupree, who used it to compete in the Demolition Derby. The Simpson family then attended where they watched the show. In the pre-show, a new Truckasaurus, Truckasaurus II, was shown off, and promptly destroyed by the crowd. The Demolition Derby had an In Memoriam montage, showing off the cars that had been destroyed, the death of Bobby Bob Hooper and the destruction of Truckasaurus II.
In the derby itself, "No Helmet" was one of the only two left, along with Car-ack Obama. However, Grampa started to feel ill so Homer had to leave with him before he saw who won.
Drivers
[
edit
]
Drivers in the derby consisted of:
Non-canon
[
edit
]
| | |
| --- | --- |
| | The contents of this article or section are considered to be non-canon and therefore may not have actually happened or existed. |
The Simpsons: Tapped Out
[
edit
]
This section is transcluded from The Simpsons: Tapped Out buildings/Entertainment buildings. To edit it, please edit the transcluded page.

Springfield Demolition Derby
Image
Cost
Build time
Reward
Sell price
Conformity increase
Availability
Unique?
Dimensions -

D

x

W

150
6s
No-Helmet Dupree (25)
Indolence +20
Hell on Wheels
Premium
12 x 18
1
For All Rich Mankind
Shattered Dreams Mystery Box (after event completion)
Task
Time
Reward
/h
/h
Providing High Octane Culture for Low Octane Prices
8h
200, 22
25
2.75
Appearances
[
edit
]