Talk:Cletus Spuckler
Wikisimpsons - The Simpsons Wiki
This is a talk page, where you can leave messages and comments about the Cletus Spuckler article.
Please sign and date your posts using four tildes (~~~~).
New discussion topics go at the bottom of the page.
New to Wikisimpsons? Welcome!
This is not a forum for general discussion about the article's subject. Only talk about edits to the article. If you want to ask questions about the content, ask on Wikisimpsons Answers.

Some talk page guidelines:

Be polite

Assume good faith

No personal attacks

Don't bite the newcomers!
The recent episode... it showerd a supposed family tree, i also posted this on the wikipedia page also, should we add it?>--68.106.210.205 00:54, 13 February 2007 (UTC)
yes duh..--Vadahata2 20:18, 25 February 2007 (UTC)
The list of names
[
edit
]
Would be nice to see a list of the actual names called out in the episode with the pretzel coupons. I don't have it recorded so it might be a while till I catch it on TV.
I'm sure there's a list of his kids around here somewhere.--Sgtcook 18:29, 9 July 2009 (UTC)
Another job?
[
edit
]
I saw an episode the other day where Cletus was a reporter for the Hillbilly Times-Picayune or something like that. Should that be included in his list of jobs? I can't rememeber if it was a Halloween special or not [not considered canon?]--70.144.190.229 15:31, 22 July 2009 (UTC)Cuttlefish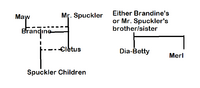 Okay, Cletu's mother, Maw, is she explicitly stated to be Cletus' mother, or could it be Brandine's mother? He could call her Maw as sometimes, sons-in-law do that. It's just that in "The Italian Bob", Brandine states that Cletus is both her husband and son. The Solar Dragon 17:10, 14 October 2011 (EDT)
---