Nick Riviera
Wikisimpsons - The Simpsons Wiki
"Hi, everybody!"
―Dr. Nick Riviera's catchphrase
Nicholas Riviera
Character Information
Dr. Nicholas "Nick" Riviera is a quack physician (although he claims to be "just as good as Dr. Hibbert"), who studied at dubious medical schools.
Biography
[
edit
]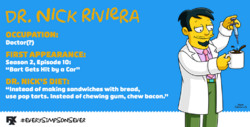 Riviera has a medical degree from Hollywood Upstairs Medical College (where he apparently spent much of his time using his ability to acquire prescription drugs to impress a succession of attractive women back in the 1970s), and a great deal of luck. Thus far, none of the patients he has swindled, maimed, or given useless or dangerous medical advice seems to have sued him (although a few have come after him in person. For example, a large angry man once grabbed him, and Nick says "Well if it isn't my old friend Mr. McGregg — with a leg for an arm and an arm for a leg"; the man literally has an arm where a leg should be and a leg where an arm should be [1]).
Dr. Nick is a stereotypical shady, immoral doctor who perform medical procedures for money with little or no regard for medical ethics, or their patients' well-being. He was once is seen digging up corpses in the graveyard for body parts, presumably to use in operations on patients.[2] He is seen taking a citizenship test, implying he is not a citizen of the United States.[3] Some of his exclamations hint that he may be Argentinian, though there is no direct evidence of this. He watches a video on how to perform open-heart surgery and is disgusted by all the blood, implying that he may be hemophobic.
His degrees read "Mayo Clinic Correspondence School", "Club Med School", "Female Body Inspector" and "I went to medical school for four years and all I got was this lousy diploma".[4] He frequently appears on infomercials, pitching all sorts of bizarre medical offers, and has often turned his operations into TV spectacles. He is also shown as an inventor/huckster (in the style of Ron Popeil) on the television show I Can't Believe They Invented It! He has practice at the Springfield Mall[5] and a walk-in clinic" located at 44 Bow Street.[6] Its phone number is 555-NICK. He can also be called at 1-600-DOCTORB ("The B is for 'Bargain'")
He has operated on the Simpson family a couple of times (when they cannot afford Doctor Hibbert) notably when Homer needed a heart bypass. Lisa Simpson attended the live audience for the operation and saved the day by guiding the obviously clueless Dr. Riviera through the operation. He also worked with Doctor Hibbert as anesthesiologist during Bart's appendectomy but was of little help as he first failed to anesthetize Bart and subsequently passed out from the leaking gas.[7]
He was seen dancing with Princess Kashmir at the Springfield Chili Cook-Off, they were later seen leaving together.[8]
He once was about to operate on Captain McCallister when his clinic caught fire, after Bart experimented with placing fireworks onto a bicycle wheel, which then span around so fast it detached from the bicycle, flew through the clinic's window, and landed on a canister of ether labelled "inflammable". Dr. Nick assured his patient it was safe, as "inflammable" meant it couldn't catch fire, but then did, leaving him quipping "Inflammable means flammable? What a country?!"[9]
During Trappuccino, Nick was impaled by a large shard of glass and says, in his normal voice, "Bye everybody!" and then passes out, making him one of the few casualties of the Trappuccino incident,[10] however, he has been seen alive even after the incident [11] playing golf with Dr. Hibbert. This could mean he actually survived the impaling somehow.
He later appeared on an operation game show, which Moe Szyslak was a judge on.[12]
Non-canon
[
edit
]
| | |
| --- | --- |
| | The contents of this article or section are considered to be non-canon and therefore may not have actually happened or existed. |
The Simpsons: Road Rage
[
edit
]
Dr. Nick quotes "Send me to the hospital, I pretend I work there".
The Simpsons: Hit & Run
[
edit
]
The penultimate mission of Level 2, "Monkey See, Monkey D'oh!" involves Bart having to find Dr. Nick's monkeys after Dr. Nick tortures them horribly and they run away.
He also appears in the bonus mission for level three, "Princi-Pal", where Lisa comes to get Principal Skinner's 'personal items', Dr. Nick says, "Hello, little girl. Here is the principal's anti-fungal cream"!
In addition to this, his quotes if he is run over by the player are:
"Hey! You drive as well as I practice medicine!"
"Don't come crying to me if you need a sex change!"
The Simpsons: Tapped Out
[
edit
]
Dr. Nick
[
edit
]
This section is transcluded from The Simpsons: Tapped Out characters/More Oddballs. To edit it, please edit the transcluded page.

Permanent Tasks
| Task | Time | Reward | Requires | Quest with the task | Animated? |
| --- | --- | --- | --- | --- | --- |
| Go Skating | 10m | 26, 7 | Simpsons' Skating Rink | | |
| Grab a Slice at Luigi's | 10m | 26, 7 | Luigi's | | |
| Try to Make Par | 10m | 26, 7 | Golf Green | | |
| Promote a Shoddy Product | 60m | 105, 26 | Channel 6 | Faulty Promotion | |
| Hit Some Range Balls | 2h | 350, 80 | Driving Range | | |
| Shop for Golf Equipment | 2h | 175, 40 | The Golfin' Dolphin | | |
| Promote Bargain Medical Practice | 3h | 200, 55 | | Hi Everybody! | |
| Testify in a Malpractice Suit | 4h | 250, 70 | Police Station | Statement To The Police | |
| Overpay for Sex on the Beach | 4h | 260, 70 | Smooches on the Beach | | |
| Stay at the Swelldorado | 4h | 260, 70 | Swelldorado | | |
| Try to Win at Blackjack | 4h | 260, 70 | $ Casino | | |
| Drink and Babysit | 4h | 260, 70 | The Boiled Potato | | |
| Attend Parenting Seminars | 4h | 260, 70 | Universal Panacea | | |
| Practice Street Pharmacy | 8h | 420, 105 | | A Real Doctor? | |
| Dance the Señor Burns | 8h | 420, 105 | Chez Guevara | | |
| Practice Medicine | 12h | 600, 150 | Blue House | Bargain Clinic! | |
| Enjoy a Night at the Theater | 12h | 600, 150 | Springfield Playhouse | | |
| Perform Surgery | 24h | 1,000, 225 | Springfield General Hospital | Bargain Surgery | |
Golfer Dr. Nick
[
edit
]
This section is transcluded from The Simpsons: Tapped Out characters/Fore!. To edit it, please edit the transcluded page.

Behind the Laughter
[
edit
]
The character design of Dr. Nick is based somewhat on Gábor Csupó, of Klasky Csupo studios, who was originally from Hungary – the animators mistakenly believed Hank Azaria was impersonating Gabor, when in fact the voice was actually a bad imitation of Ricky Ricardo from I Love Lucy.[13][14]
He has appeared in at least three billboard gags.[15]
Catchphrase
[
edit
]
Dr. Nick is notable for his exclamation upon entering a room of "Hi, everybody!", which is immediately followed by a response of "Hi, Dr. Nick!" from the other characters present with varying degrees of enthusiasm.
Many episodes have featured variants of this. An Austrian Dr. Nick exclaimed "Guten Tag, everybody!",[16] "Shalom, everybody" [citation needed], "Hi, frozen body!" to Jasper Beardsley when he self-froze himself and became a Kwik-E-Mart promotion, "Frostillicus".[17] Mel Gibson has also said "Hi, everybody!", to which Dr. Nick responded with "Hi, Mr. Gibson", effectively switching roles [citation needed].
Cultural influence
[
edit
]
In a tongue-in-cheek analysis, the Canadian Medical Association Journal compared the services of Dr. Hibbert and Dr. Nick.[18] It concludes that Dr. Nick is a better role model for physicians; Dr. Hibbert is a paternalistic and wasteful physician, unlike Dr. Nick, who strives to cut costs and does his best to avoid the coroner, proving Marge's claim wrong that he isn't a doctor at all.
Appearances
[
edit
]
Episodes:
Specials:
Adverts:
Simpsons Comics:
Treehouse of Horror:
Bart Simpson:
Futurama Crossover:
Comic Strips:
Holiday Humdinger:
Super Spectacular:
Winter Wingding:
Summer Shindig:
One-Shot Wonders:
Video Games:
Books:
References
[
edit
]
| | |
| --- | --- |
| | Wikisimpsons has a collection of images related to Nick Riviera. |
Factfiles from Simpsons World the Ultimate Episode Guide: Seasons 1-20
Season 14
Rock Stars • Audrey McConnell, Third Grade Teacher • Dr. Velimirovic, Plastic Surgeon • Mitch Hartwell, the Reality Channel Producer • Junior (AKA Frank Grimes, Jr.) • Teacher of the Year Award Nominating Committee • Dexter Colt, Private Eye • The Mugger • Larry H. Lawyer, Jr. • Baby Stink-Breath • Booberella • Sara Sloane, Hollywood Movie Star • Cookie Kwan, Red Coat Realtor • Stark Richdale • Declan Desmond • Julio and Grady • Luke Stetson, Junior Wrangler • Suds McDuff, Spokesdog/Mascot for Duff Beer • Marriage Counselor • Jim Proudfoot • Don Castellaneta