Gary Chalmers
Wikisimpsons - The Simpsons Wiki
"Skinnerrrrr!!!"
―Superintendent Chalmers' catchphrase
Gary Chalmers Official artwork of Gary Chalmers by Matt Groening
Character Information
Superintendent Garibaldi "Gary" Chalmers is the superintendent[3] of Springfield's school district.
Biography
[
edit
]
Early life
[
edit
]
Chalmers originally hails from Utica, New York,[5] but has also said that he comes from Queens, New York and Intercourse, Pennsylvania. He attended Ball State University and is a proud owner of a red 1979 Honda Accord (and later, a Camry, which Otto Mann promptly wrecks). He mentioned to Principal Skinner that he is a Sagittarius (b. November 22-December 22).[6]
Teaching days
[
edit
]
Chalmers used to teach, until he supervised a group of detention students called The Fight Club and they beat him up when he mistakenly called them "The Breakfast Club". After this, he never taught again and only superintended. Years later, he ended up teaching Bart Simpson and several other students about Theodore Roosevelt when Principal Skinner challenged him to take over Bart's education.[3]
Personality
[
edit
]
Chalmers is a strict, no-nonsense, and largely humorless man, with a short temper and low tolerance for disorder or rule-breaking. His general demeanor and personality are like those of a military officer. Whenever he visits Springfield Elementary, some sort of disaster strikes. He produces extreme anxiety in Principal Skinner, who offers increasingly improbable stories to explain what is happening. Chalmers is known for throwing open the doors to the room and bellowing "SKINNER!!!" or "SEYMOUR!!!", to which Seymour's usual response is to stammer "S-Superintendent Chalmers!" Evidently, Chalmers' trademark bellowed catchphrase has caused some paranoia in Skinner.[7]
Chalmers's own competence and dedication to his job are questionable. He let Ned Flanders allow the school to descend into anarchy when he was principal, freely admitting that he had fired Skinner for far less, explaining simply that "Skinner really bugged me." In fact, the only reason Chalmers even allowed Skinner to be reinstated as Principal was because Ned Flanders introduced prayer into the school, and thus was fired because Chalmers felt that religion should never be placed within school walls, just as school or government shouldn't be placed in church walls. He seems disturbingly unconcerned with the school's decline, saying that "the way America's public schools are sliding, they'll all be like this in a matter of months. I say enjoy it — it's a hell of a toboggan ride!" He also promotes people based on personal bias as opposed to actual competence, promoting Principal Holloway, described by Skinner as a "drunk" and Chalmers as a "pill-popper", to assistant superintendent, overlooking the efforts made by Skinner to improve his school's standing.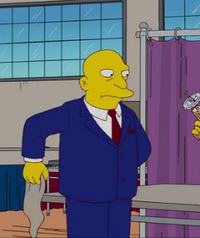 When Springfield began erecting surveillance cameras around Springfield and 742 Evergreen Terrace was discovered to be a blind spot and transformed into a crowding place for rebellious activity, Superintendent Chalmers was spotted swinging nunchucks while prancing in a Tutu.[8]
He was once involved in a large brawl in the teacher's lounge and was knocked out after Dewey Largo punched him over a wooden balcony.
Chalmers and Skinner have also made Chalmskinn Productions, an organization that the two school workers make when they sponsor Lisa in a film competition.
Romantic Interests
[
edit
]
Chalmers once dated Agnes Skinner, much to Skinner's dismay[9] (although on other occasions he has mentioned being married). Later, it is revealed that Chalmers is a widower and his wife's name was Rosemary.[3]
Skinner once received a note by Bart's carrier pigeon stating that Chalmers and Edna Krabappel were "doing it", after Skinner read it, Chalmers backed out of the room awkwardly and claimed she was on the rebound from Groundskeeper Willie.[10] Chalmers also once said that he was dating the mother of one of the Springfield Elementary band students.[11]
He hooked-up with Brunella Pommelhorst during "Grownup Halloween".[12]
At some point he paid Mrs. Muntz for sex.[13]
When Chalmers was younger and a teacher, he had brown hair.[3] However, he has since gone totally bald. His gray balding hairstyle is actually a toupee.[1]
On a few occasions, Chalmers says Skinner's name this way when absolutely nothing has gone wrong, implying that he probably pronounces Skinner's name this way out of habit (e.g. once saying "SKINNNEERR! and Mrs. SKINNNEERR!") This habit seems to also have an effect on words that rhyme with "Skinner", such as "I must get home to make sure my pool boy is using his SKIMMMEERR!", "...catch a fish for his DINNNEERR!" and "SPINNNEERR" after yelling at Bart Simpson for spinning in Skinner's chair.
Non-canon
[
edit
]
| | |
| --- | --- |
| | The contents of this article or section are considered to be non-canon and therefore may not have actually happened or existed. |
In one possible future, Chalmers is practically a vegetable, wheelchair-bound and only capable of saying his trademark line: "Skinner!"[14]
In another possible future, Chalmers is a colonel of an army that he leads on the planet Rigel 7 to fight the Rigellians, to get Hillarium, a liquid that makes everything funny. He is defeated after Bart makes Chalmers slap himself in a large robot suit that he controls by movement, telling him he had something on his face, thus making Chalmers fall off a cliff.[15]
In one comic story he revealed he had been dating Lunchlady Dora.[16] Chalmers and Dora were also seen making out in "Brick Like Me"
The Simpsons: Tapped Out
[
edit
]
Chalmers
[
edit
]
This section is transcluded from The Simpsons: Tapped Out characters/School Workers. To edit it, please edit the transcluded page.

Permanent Tasks
Task
Time
Reward
Requires
Quest with the task
Animated?
Go Skating
10m
17, 5
Simpsons' Skating Rink
Shout at "SKINNERRRR!"
60m
70, 17
Springfield Elementary
"SKINNERRRR!?" Pt. 2
Browse the Blocko Store
2h
175, 40
Blocko Store
Lead Calisthenics
4h
175, 45
All Night Gym
High School Low Pt. 3
High School Low Pt. 9
Overpay for Sex on the Beach
4h
260, 70
Smooches on the Beach
Stay at the Swelldorado
4h
260, 70
Swelldorado
Party at the First Class Lounge
4h
260, 70
The First Class Lounge
Try to Win at Blackjack
4h
175, 45
$ Casino
Drink and Babysit
4h
175, 45
The Boiled Potato
Attend Parenting Seminars
4h
260, 70
Universal Panacea
Visit The Vast Waistband
7h
250, 60
The Vast Waistband
Catch Some "DINNERRRR!"
8h
275, 70
Minnow Pond
High School Low Pt. 11
Dance the Señor Burns
8h
420, 105
Chez Guevara
Break Character
10h
350, 90
Intend Springfield High School
12h
420, 100
Springfield High School
High School Low Pt. 2
High School Low Pt. 5
High School Low Pt. 6
Survive Off the Land
24h
600, 150
Camp Fire
High School Low Pt. 4
Behind the Laughter
[
edit
]
Foreign dubs
[
edit
]
| Language | Voice dubber |
| --- | --- |
| Čeština | Milan Slepička |
| Español | Miguel Ángel Botello |
Appearances
[
edit
]
Episodes:
Specials:
Adverts:
Simpsons Comics:
Treehouse of Horror:
Bart Simpson:
Holiday Humdinger:
Winter Wingding:
Comic Book Guy: The Comic Book:
One-Shot Wonders:
Video Games:
Books:
References
[
edit
]
| | |
| --- | --- |
| | Wikisimpsons has a collection of images related to Gary Chalmers. |
Factfiles from Simpsons World the Ultimate Episode Guide: Seasons 1-20
Season 14
Rock Stars • Audrey McConnell, Third Grade Teacher • Dr. Velimirovic, Plastic Surgeon • Mitch Hartwell, the Reality Channel Producer • Junior (AKA Frank Grimes, Jr.) • Teacher of the Year Award Nominating Committee • Dexter Colt, Private Eye • The Mugger • Larry H. Lawyer, Jr. • Baby Stink-Breath • Booberella • Sara Sloane, Hollywood Movie Star • Cookie Kwan, Red Coat Realtor • Stark Richdale • Declan Desmond • Julio and Grady • Luke Stetson, Junior Wrangler • Suds McDuff, Spokesdog/Mascot for Duff Beer • Marriage Counselor • Jim Proudfoot • Don Castellaneta