Chalmskinn Productions
Wikisimpsons - The Simpsons Wiki
Chalmskinn Productions
Company Information
Chalmskinn Productions is a film company run by Principal Skinner and Superintendent Chalmers.
History
[
edit
]
They produced a film about the Simpson family, made by Lisa Simpson (Capturing the Simpsons), and one about Nelson Muntz (Life Blows Chunks).
Later on, John C. Reilly wanted to be in the Chalmskinn business and wanted the lead in Ghost Willie, a screenplay by Skinner. Chalmers said "he seems a little needy" and Skinner said "pass". [1]
At one point, Chalmskinn began to make video games under a subdivision named Chalmskinn Interactive. They had a booth at E4.[2]
Later, Chalmskinn Productions made a short film about the Dance of the Lemons[3] and an informercial for Springfield Elementary.[4]
Skinner was working on his computer in the screenplay for There Will Be Permission Slips, but it was destroyed by Lolo.[5]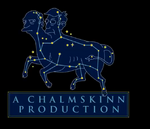 Appearances
[
edit
]
References
[
edit
]
---